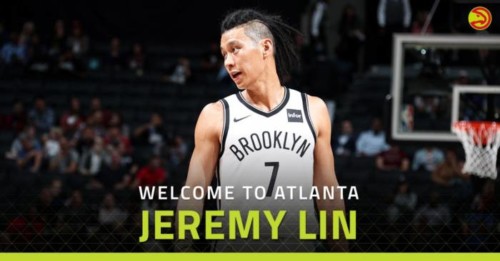 Things are looking good for the Atlanta Hawks. As we move closer to the start of the 2018-19 NBA season, the Hawks are making moves!
The Atlanta Hawks have acquired guard Jeremy Lin, a 2025 second-round pick and the right to swap second-round picks in 2023 from the Brooklyn Nets, in exchange for the draft rights to Isaia Cordinier and a protected 2020 second-round pick, it was announced today. Atlanta also Obtains a Second-Round Draft Pick and Swap Rights to an Additional Pick
An eight-year veteran, Lin has appeared in 406 career games (217 starts), averaging 12.0 points, 4.5 assists, 2.9 rebounds and 1.2 steals in 26.6 minutes (.433 FG%, .350 3FG%, .805 FT%) with Golden State, New York, Houston, the LA Lakers, Charlotte and Brooklyn.
The 6'3" guard has seen action in 17 postseason contests (starting three) between the Rockets and Hornets, and averaged 10.1 points, 3.1 assists and 2.7 rebounds in 26.5 minutes.
Lin starred collegiately at Harvard, where as a senior in 2009-10, he put up 16.4 points, 4.5 assists, 4.4 rebounds, 2.4 steals and 1.1 blocks in 32.2 minutes (.519 FG%, .341 3FG%, .755 FT%). He was the first player in Ivy League history to record 1,450 points, 450 rebounds, 400 assists and 200 steals in a career.
Born in Torrance, CA, Lin grew up in Palo Alto, CA, where he attended Palo Alto HS. Follow @eldorado2452 on Twitter and Instagram for all your NBA, Atlanta Hawks and sports news.
© 2018, Eldorado2452. All rights reserved.