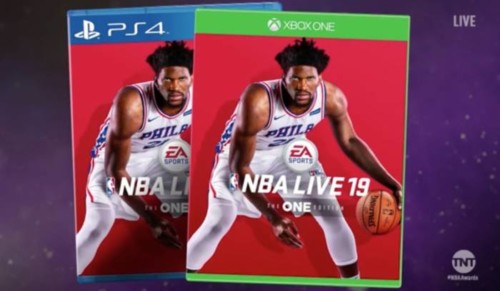 This has been a hell of a year for Philadelphia sports. The Philadelphia Eagles won Super Bowl 52. The Villanova Wildcats won the 2018 NCAA Basketball championship. The Philadelphia Phillies are currently having one of their best seasons in years and Sixers basketball was reborn.
🔥🏀🎮 "S\O the good folks at @easportsnba for Trusting the Process 😉😉" ✊🏽✊🏽 @CornellGunter
– – – – – – – – –#repost via @easportsnba: "Introducing the new face of NBA LIVE 19, @joelembiid in The ONE Edition
Available September 7th #NBALIVE19 pic.twitter.com/tJv50V1VAh

— Terrell Thomas (@Eldorado2452) June 26, 2018
After making the playoffs and during the 2017-18 season, having the NBA rookie of the year in Ben Simmons and with Joel Embiid being named an all-star, Sixers basketball is back. Now as EA Sports looks to reclaim their title as the best in the world of basketball video games, they have found their new cover athlete.
Last night during the 2018 NBA Awards, EA Sports revealed that Philadelphia Sixers star Joel Embiid is the cover athlete for NBA Live 19 which hits the streets on September 7th. Checkout the cover above and be on the lookout for more details on NBA Live 19. Follow @eldorado2452 on Twitter and Instagram for all your music and entertainment news.
© 2018, Eldorado2452. All rights reserved.