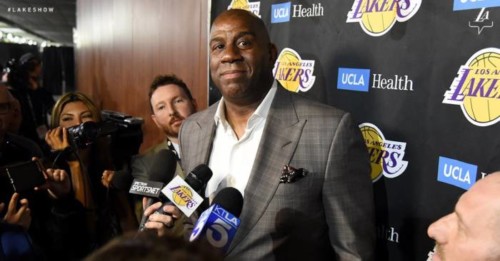 The 2018-19 Los Angeles Lakers NBA season has come to an end but of course, not without a little drama. On Tuesday night, as the Lakers prepared to close out the season in their final home game, Magic Johnson gathered media and made a special announcement.
Thank you to Lakers owner Jeanie Buss, General Manager Rob Pelinka, Coach Luke Walton, the Lakers players & the entire basketball operations staff for the tremendous opportunity to serve as the President of Basketball Operations for the @Lakers. I will always be a Laker for life.

— Earvin Magic Johnson (@MagicJohnson) April 10, 2019
About two hours before the Lakers faced the Portland Trailblazers, Magic Johnson made the announcement that he has stepped down as the Lakers team president. Magic Johnson spoke on not informing Jeanie Buss on his decision and how now he can "go back to having fun again".
Spoke to Magic Johnson 1-on-1 after his shocking resignation and asked him if he owed it to Jeanie Buss to have called her personally to tell her he was leaving. We also talked about why he did it and how he feels now –
Will air on @SportsCenter tonight & then in full on #TheJump pic.twitter.com/ce0bXfhLQ4

— Rachel Nichols (@Rachel__Nichols) April 10, 2019
The question now is where do the Lakers go from here. Will Luke Walton be fired as the Lakers head coach? Will the Lakers sign a major free agent during the Summer of 2019? Then are several things the Lakers will need to address and need to address asap.
Stay tuned as much details surface. Follow @eldorado2452 on Twitter and Instagram for all your NBA and sports news.
© 2019, Eldorado2452. All rights reserved.