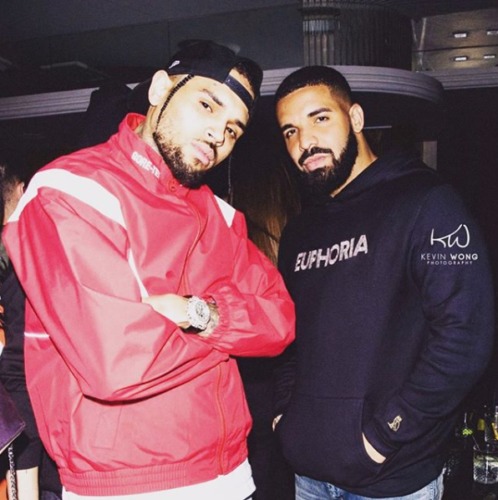 Chris Brown has a few treats for us as he took to Instagram yesterday to unveil the official tracklist for his much-anticipated album, Indigo. Much like his Heartbreak On A Full Moon project, Breezy is feeding fans with a multitude of new music total 37 tracks. The project comes heavy with feature from    Lil Wayne, Justin Bieber, Nicki Minaj, Juicy J, Juvenile, G-Eazy, H.E.R, Tory Lanez, Lil Jon, Trey Songz, Joyner Lucas, Tank and more. He's even got a track with Drake which will hopefully be a smash. It's great to see men grow up and get back to the bag together. The album is set for release with a tentative date of June 28th.
The tracklist is available after the jump, what feature are you most excited for?
01. INDIGO
02. BACK TO LOVE
03. COME TOGETHER (FEAT. H.E.R.)
04. TEMPORARY LOVER (FEAT. LIL JON)
05. EMERALD (FEAT. JUVENILE & JUICY J)
06. BURGUNDY
07. RED
08. ALL I WANT IS (FEAT. TYGA)
09. WOBBLE UP (FEAT. NICKI MINAJ & G-EAZY)
10. KEEP A STACK (FEAT. LIL WAYNE & JOYNER LUCAS)
11. HEAT
12. NO GUIDANCE (FEAT. DRAKE)
13. GIRL OF MY DREAMS
14. NATURAL DISASTER
15. AURA
16. DON'T CHECK ON ME (FEAT. JUSTIN BIEBER & INK)
17. SORRY ENOUGH
18. JUICE
19. CHEETAH
20. UNDECIDED
21. BP
22. NO JUDGMENT
23. SIDE N***A
24. THROW IT BACK
25. ALL ON ME
26. SEXT (FEAT. TREY SONGZ)
27. LET'S SMOKE
28. EARLY ON (FEAT. TANK)
29. YOU LIKE THAT
30. TROUBLED WATERS
31. TAKE A RISE
32. LURKIN (FEAT. TORY LANEZ)
33. TRUST ISSUES
34. ACT IN
35. PART OF THE PLAN
36. PLAY CATCH UP
37. DEAR GOD
© 2019, Oktane. All rights reserved.