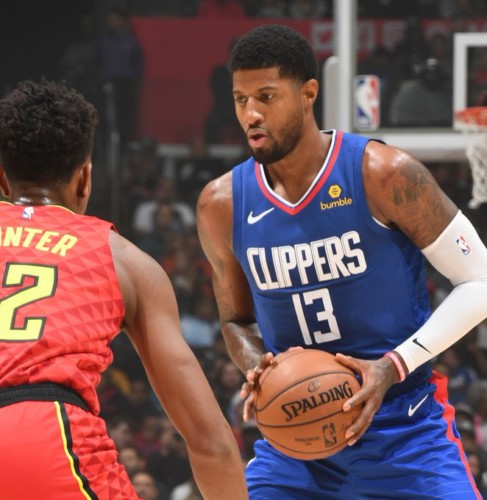 Saturday night's Atlanta Hawks matchup vs. the Los Angeles Clippers is one the Hawks will want to forget. The Atlanta Hawks came into Staples Center on Saturday for the first game of their back to back short handed due to injury as they faced one of the toughest teams in the NBA.
The Clippers weren't totally at full strength on Saturday night, as former NBA Finals MVP Kawhi Leonard sat out due to injury. However, Palmdale native/ NBA all-star Paul George made his Clippers home debut after missing the start of the year while rehabbing from a shoulder injury.
Paul George was the star of the night from start to finish and he only played 20 minutes. George came out the gate on fire and scored 8 points in the first three minutes of the game. The Clippers jumped out to a (12-3) lead early and never looked back. Paul George finished the night with 37 points.
Paul George put on a show in the first half of his home Clippers debut.

Paul George has 25 first half points #NBA pic.twitter.com/tu7tPhk2fk

— Terrell Thomas (@Eldorado2452) November 17, 2019
The Atlanta Hawks lacked energy early and by the time their effort matched their energy, the game was already out of hand. The Hawks fought in the first half but the Clippers experience was too much to overcome for Atlanta. This looked to be a great learning opportunity for a young Hawks team and a teaching experience for Coach Pierce. Trae Young's streak for 4 straight games with a double-double ended on Saturday as Young finished the game with 20 points and 6 assist.
In his 92nd career game, Young is the sixth-fastest in NBA history to reach the 750 mark (behind Mark Jackson, Oscar Robertson, Damon Stoudamire, Tim Hardaway, Phil Ford) via @ATLHawks #TrueToAtlanta pic.twitter.com/ElyfYDMu0a

— Terrell Thomas (@Eldorado2452) November 17, 2019
Trae Young shouldered the loss following the game and spoke on playing better for his teammates. "I gotta play better", Young mentioned post game. I personally didn't see Trae's performance as the reasons the Hawks loss but it was great to see the Hawks young leader (no pun intended) rise up and own it for his teams.
Evan Turner was a bright spot for the Hawks. Turner finished the game with 11 points on (4-7) shooting in 15 minutes of action. Hawks rookies Cam Reddish and DeAndre Hunter both finished the night with 12 points. Hawks veteran Vince Carter missed his fourth straight game as he is not on the trip due to personal reasons.
Following the game Paul George spoke on playing his first game at home and how great his body felt after dropping 30 plus in back to back games.
"I got new shoulders", Paul George said postgame. He spoke on rehabbing for seven straight months and how that set him up to score 37 in his first game at Staples Center in a Clippers jersey.
The Hawks Los Angeles road trip continues tonight as the Hawks will face LeBron James and Los Angeles Lakers at Staples Center on Sunday night. Tip off is at 6:30pm.
Follow @eldorado2452 on Twitter and Instagram for all your Atlanta Hawks, NBA and sports news.
© 2019, Eldorado2452. All rights reserved.