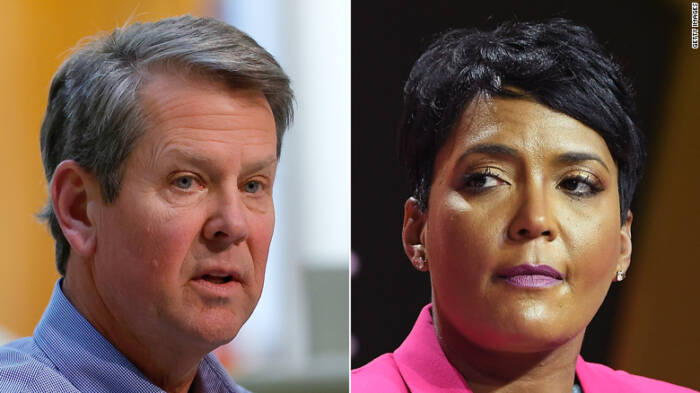 Gov. Kemp will sign another executive order expressing that local governments cannot mandate private organizations to require masks.
Georgia's governor pulled back the lawsuit he documented against Atlanta's mayor and city counsel with an end goal to end guidelines the city set up to battle COVID-19. Governor Brian Kemp needed to keep Mayor Keisha Lance Bottoms from forcing a citywide mask mandate.
"In light of Atlanta Mayor Keisha Lance Bottoms' concession regarding the city's Phase One roll-back plan and following her refusal in mediation to further negotiate a compromise, the Attorney General's Office has filed to withdraw our pending lawsuit," Gov. Brian Kemp said in a statement Thursday (Aug. 13).
He proceeded, "I sued the City of Atlanta to promptly stop the covering of nearby organizations and shield neighborhood laborers from monetary precariousness. For quite a long time, we have worked in accordance with some basic honesty with Mayor Bottoms, and she consented to relinquish the city's Phase One move back arrangement, which included business terminations and a safe house set up request. Sadly, the Mayor has clarified that she won't consent to a settlement that defends the privileges of private land owners in Georgia. Given this impasse in exchanges, we will address this very issue in the following Executive Order."
Bottoms revealed to CNN that she was "appreciative" he pulled back the lawsuit, however says he was not honest with his announcement about her resuming plans. "While it is unfortunate that the Governor seeks to intentionally mislead the people of our state by issuing a woefully inaccurate statement regarding our good faith negotiations and the City's reopening recommendations, I am grateful that this lawsuit has been withdrawn and the time and resources of our city and state can be better used to combat COVID-19," she said.
A month ago, Bottoms told the outlet that she trusted Kemp's lawsuit was a type of "personal retaliation" since he "didn't sue the city of Atlanta. He documented suit against myself and our city council personally" Kemp accepts that the residents of Georgia needn't bother with a mask mandate to "make the best decision."
His new executive order will allegedly be executed this Saturday (Aug. 15). It is relied upon to express that local governments can't structure private organizations to require masks. The request will likewise purportedly expel a clause that restricted areas and urban areas from commanding mask covers.
© 2020, Jonathan P-Wright. All rights reserved.