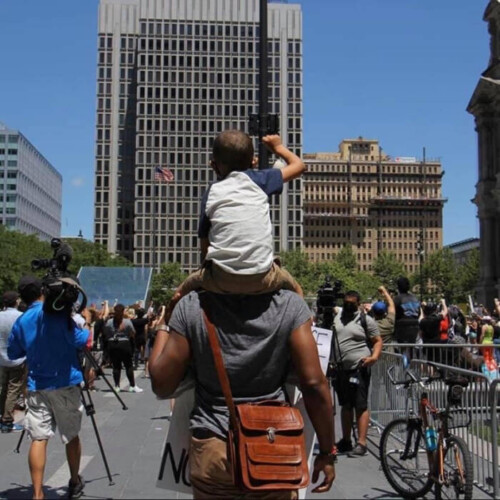 THIS COUNTRY WAS BUILT ON THE BACK OF THE PEOPLE AND MOLDED  BY ITS REBELLIONS, RIOTS AND PROTEST WHY SHAME IT NOW?
"After the death of George Floyd at the hands – or, more accurately, the knee – of a white police officer in Minneapolis, we're left assessing how loud we need to shout about police brutality in the United States. As it happens, we're turning the dial all the way up: a black man pleads for his life, the white officer kneeling on his neck maintaining a blank expression. An Asian fellow officer stands guard, deaf to anguished cries of passersby pleading for Floyd's life. Now you hear it.
Imagine again that you were scrolling through Twitter and stumbled across the image of a coronavirus victim, dead in a morgue. Or that images of British soldiers being tortured flickered by in the sidebar of a news website. There are some things that are too painful to look at: like when you stare directly into the sun, its image is stuck at the centre of your vision all day.
But images of black people being killed in the US have become part of the furniture of our lives. We have a compartment for them in our brain now, filed under "so sad, we must do something". We've seen so many of these videos now that we recognise what they are before we hear the story: brown body on the floor, another one of those." (LEA GREEN, THE GAURDIAN)
Lets take a step back and look at not only how much damage the riots have caused, lets look at the pain the police have been inflicting on the under cared for communities since the beginning of time. Lets reflect on what has been done over and over to us without retaliation due to lack of media and civilian evidence. The "non-essential" but highly valuable black brown and poor white people of this nation, whose dollar and work force feuls the stabilty of our economy. Lets take a step back and see where our oppressors develope power and control of national and local matters. The "Minority" which we know to be the "True Majority", has never had a history of solidarity when it comes to local and state law enforcement.
The love that we give our armed forces who fight abroad will never be felt by the veteran armed forces in blue. Maybe the issue is where we put our money, efforts and love on a day to day bases. Where we apply pressure is what changes the media narative. How many stores being looted did you spend money at or work for days or weeks prior? Now how many times did those stores unlawfully arrest or kill a member of the community? How comfortable we are everyday knowing that any of us could be George Floyd, Sandra Bland or a Freddie Gray Jr?
1991 Rodney King is no longer looked at to be the breaking point of police brutality but now marks one of the many days in history where the United States government made it clear.
 No matter how many cameras we have, no matter how many witnesses we have, the police will continue to act violently and protects all perputrators wearing a badge.
(Downtown Philadelphia)
Yes it takes action to have your voice heard, but while they hit us where it hurts we continue the damage our own cities and commmunities? March to your White House, your Liberty Bells, your court houses, Museums, police station and prisons. Take the anger and hurt directly to the source and have a plan for them and have a plan of action for us no matter what powers appose. We expect the same people who kill us to have a solution? The person in the fire with you is more valuable than the one coming to put it out, they understand your fight to put the flame out and understand if you stop fighting and leave. But this only has power if we all move as one. We either stand together or we leave together.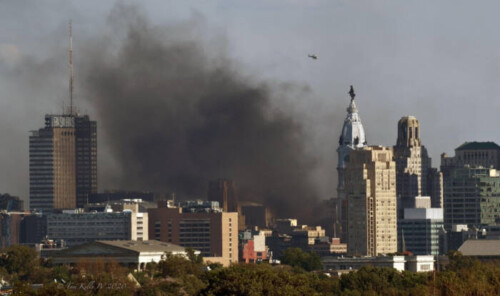 Maybe the issue is the label "enforcement", to give some one a title to inflict or act first to a situation. Are the police not "first responders?" Are they no longer peace keepers? In a long list of maybes and possibilities we need a solid unified solution, as the people of America to do what has been done before revolt against the current power holders. No amount of damage no burning buildings or cars, will ever bring back a life lost nor will it allow his family and friends to sleep well at night. It will allow the world to feel a pain of lost as we have been feeling since we were taken and enslaved. It will allow the powers above to be reminded, the more hurt we feel the more damage will be done.
Please answer this question before reading on…. What other option did George Floyd have?
The answer is fight for his life or hope that his brothers and sisters watching him take his last breath would fight for him, or hope the man set out to kill has a change of heart.
The cities burning are a reflection of the burning hurt and anger you feel when there is no 911, no church or masque, no mom or dad, no brother or sister brave enough to put his or her life on the line for yours. Don't the damage by the dollar amount count it by the gallons of tears and blood on the concrete. 
By definition police means "the civil force of a national or local government, responsible for the PREVENTION and DETECTION of crime and the maintenance of public order."
We ask our "good cops" to help us we ask our top athletes and celebrities to speak up, we ask government officals preachers and media to help us and yet we have no answers. But how fair is it that we ask these people to risk their pay wages and job stability when we dont have a plan to feed, clothe and house them after putting thier jobs on the line?  Yes policing our own would be efficient but when have our tax dollars ever help build the people?
(minneapolis riots)
How do we prevent this from happening again when it seems we have exhausted all other options available. How did America rise up against its former British oppressors? Taxes and allocation of funds was the first step. There is no standardized testing for prejudice and race rage that one holds inside of them, so the talks of evaluations and a better hiring process seems to only be words to buy time.
So where in the academy did they teach to sentence a man to death without a proper trial and presentation of evidenece. When and where were the rights of American citizens disapear to? How many more deaths will it take? How many riots will it take? How many peaceful protest will be manipulated and instigated into more unruly actions? How many hashtags and instagram post does it take to understand the people can no longer be controlled and put through an endless cycle?
Countless documented and undocumented uprisings, rebellions and riots in America's history and somehow the narrative changes with the shade of people involved. Ones march of pain labled a march of hate, but as we take a look at the most violent and pivital events in america take note of the simularities and take note of the differences of how the media preotrayed the peoples cry for help. This is nothing new unfortunatly.
The Boston Tea Party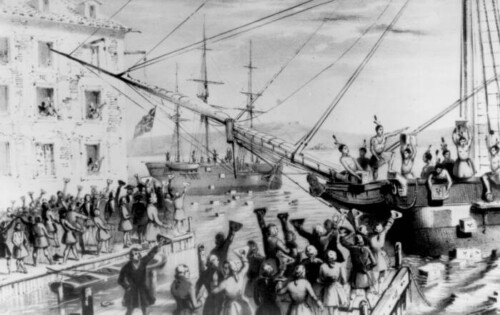 1773, the Sons of Liberty disguised as Mohawk Indians. Here's more about this famous incident…An act of protest that was undertaken by the American colonists against Great Britain, in which the American colonists destroyed many crates of tea bricks which were on the ships at the Boston harbor, is known in history as The Boston Tea Party. In the history books this goes down as one of the greatest and first victories for "America's Freedom" aka no taxes. Here's a list of problems with this riot.
Impersonating the indegenous people of the land to avoid conviction. Imagine the hate crimes and murders that followed by those loyal to the British.
Ben Franklin offering to pay for the damages and lost of product. Him being a loyalist which means he sided with britain. So even though he did not support the freedom of America we praise him to this very day. Do accomplishments give you morality passes?
Paying taxes to the government that provides armes, goods, law enforcement and funds was no longer felt to be sufficient for their standard of living… sounds familiar.
"No taxation without representation" Seems the American people should not only have charged these looters and impersonators, these thugs that thought looting and destroying goods would bring about change failed right? 1776 the riots, rebellions and revolution accomplished its goal. Despite the celebrities, media and people of power at the time, the people made it happen.
I WOULD LOVE TO BREAK DOWN CRITIC AND HIGHLIGHT EACH OF THESE EVENTS BUT THE BASES OF ALL OF THE CHAOS STEMS FROM UNEQUAL TREATMENT AND FEAR OF LOSING ONES WAY OF LIFE FREEDOM AND PEACE. ALL WE WANT IS LIFE FREEDOM AND PEACE.
Astor Place Riot 1849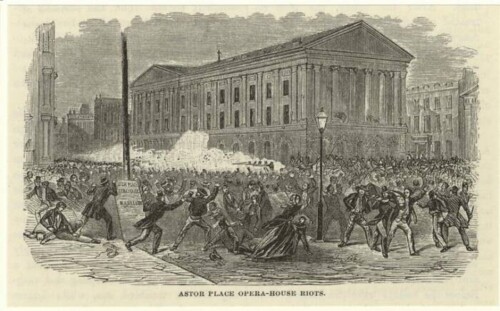 The New York City Draft Riots 1863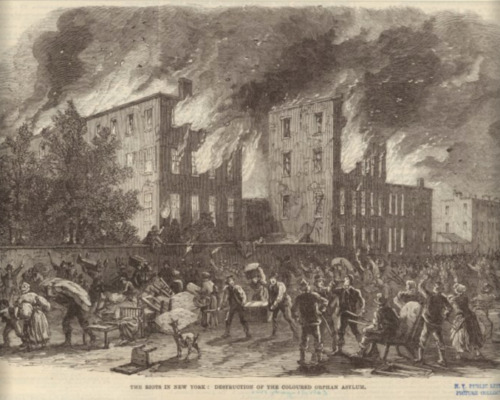 When jobs and every day life is on the brink of an unwanted change… White America shows how they react so why now is it a problem?
Memphis Riots Of 1866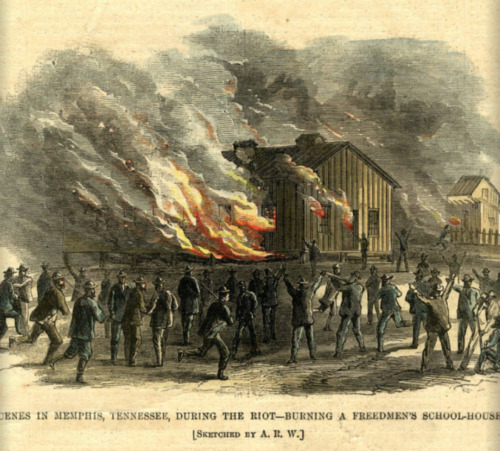 The Haymarket Square Riot 1886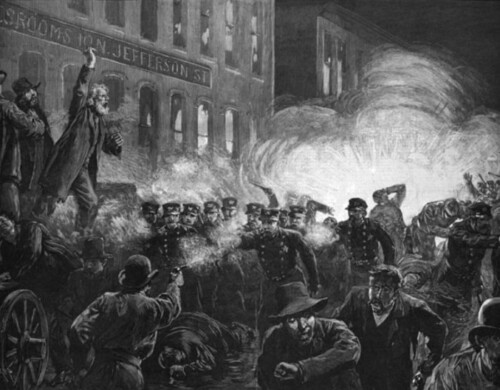 Black Wall Street 1921

After World War I, as Tulsa, Oklahoma's whites sought to maintain dominance over the segregated city's upwardly mobile black population, tensions soared. In 1921, Tulsa, Oklahoma's Greenwood District, known as Black Wall Street, was one of the most prosperous African-American communities in the United States. On May 21, 1921, when a rumor circulated that a young black man had sexually assaulted a young white woman, a mob of white men took to the streets looking for vengeance, causing scores of black men to fight back.
Over the next two days, the city became a veritable war zone with gunfights and fire on May 31 of that year, the Tulsa Tribune reported that a black man, Dick Rowland, attempted to rape a white woman, Sarah Page. Whites in the area refused to wait for the investigative process to play out, sparking two days of unprecedented racial violence. Thirty-five city blocks went up in flames, 300 people died, and 800 were injured. Defense of white female virtue was the expressed motivation for the collective racial violence
When justice is not served in a timely manor America shows again distruction was the first thought solution to the problem.
The Bonus Army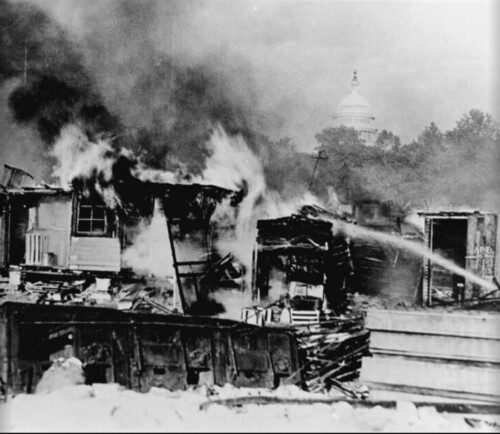 U.S. Army/National Archives and Records Administration via Wikimedia Commons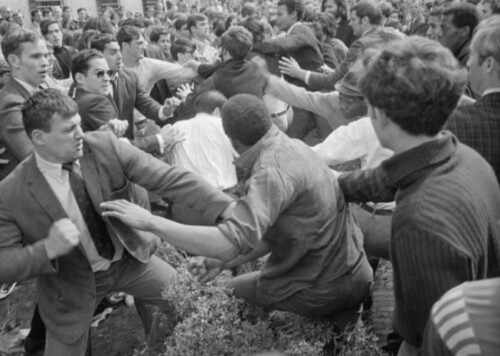 The Harlem Riot Of 1964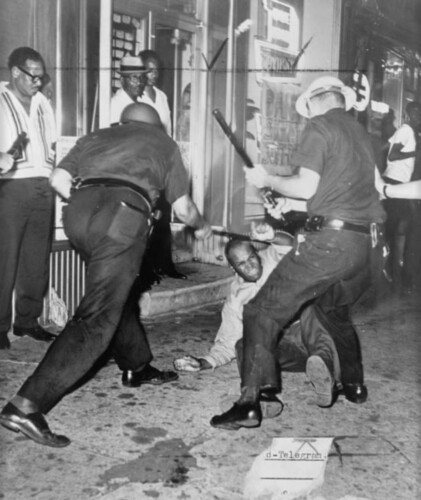 Newark Riots 1967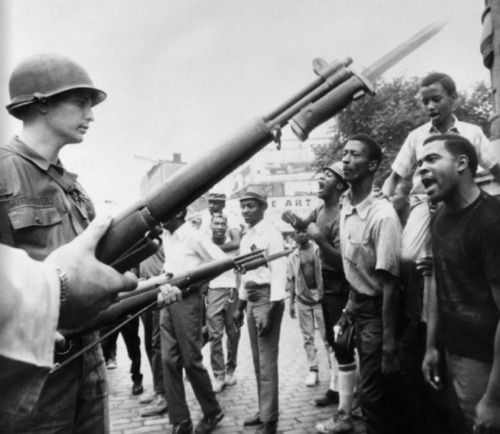 Detroit 1967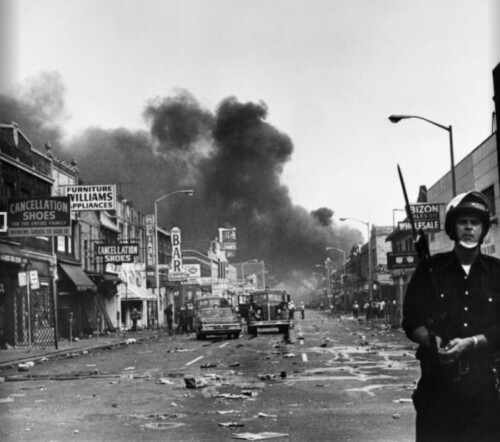 Between July 23 and 27, 1967, Detroit descended into chaos. Upset at years of mistreatment in terms of housing, employment, and police practices, and spurred on by a violent police raid on one after hours club on July 23, thousands of African-Americans and like-minded supporters took to the streets in what became the third largest civil disturbance in American history. Ultimately, after intervention from the local police, the National Guard, and the Army, the riot ended with damages including 43 dead, 1,189 injured, 7,200 arrested, and 2,000 buildings destroyed.
Democratic National Convention Riots, 1968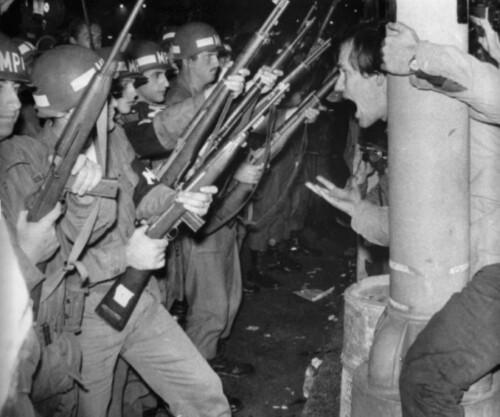 The 1968 Washington, D.C. Riots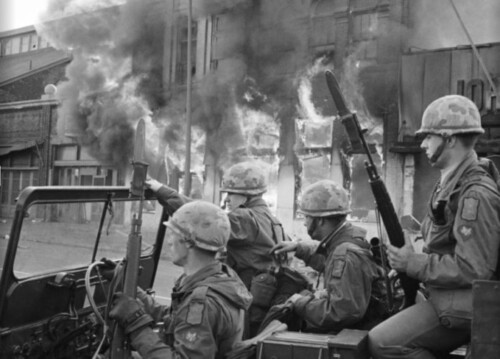 The 1968 Chicago Riots
In Chicago, 11 died while $10 million worth of property lay damaged and thousands ended up homeless
The 1968 Baltimore Riots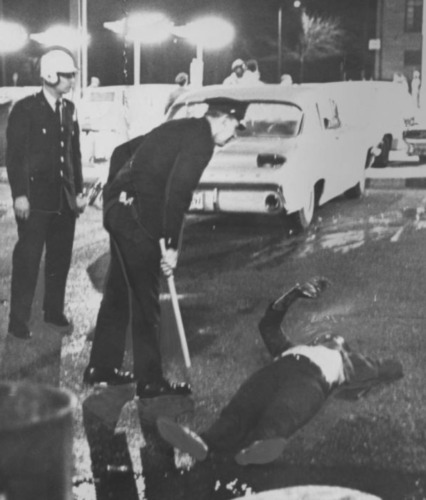 The San Francisco State Strike 1968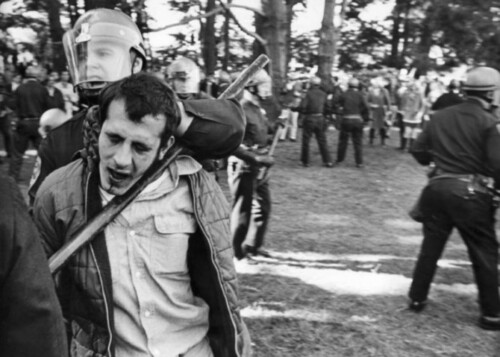 The 1992 Los Angeles Riots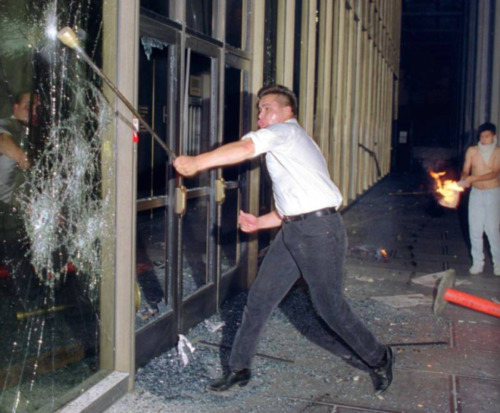 Even with the tape, on April 29, 1992 the jury returned guilty verdicts for none of the four officers. Outraged at this incident and years of police injustice like it, thousands took to the streets in riots that lasted six days, killed 55, injured more than 2,000, and put more than 11,000 in handcuffs
The Ferguson Unrest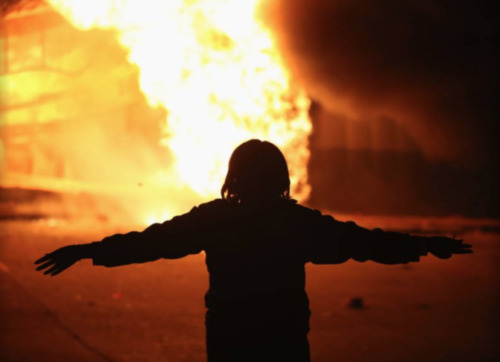 The 2016 Charlotte Protests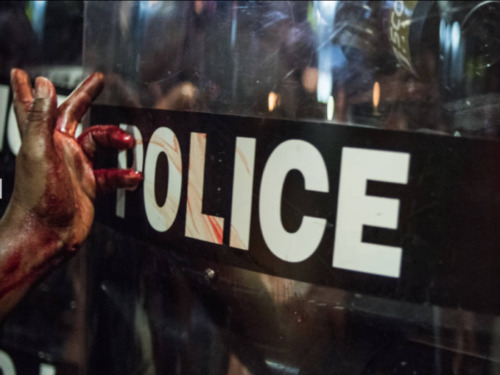 (pictures and dates found here)
HOW MUCH MORE MEDIA COVERAGE DO WE NEED TO UNDERSTAND WE ARE THE MOST LOVING PASSIONATE PEOPLE ON THE PLANET?

HOW MANY TIMES CAN YOU MANIPULATE THE MINDS OF THE PEOPLE TO BE OK WITH OPEN INFLICTION OF PAIN RACISM AND PREJUDICE?

HOW MANY MORE STORES AND COP CARS MUST BURN UNTIL AMERICA REALIZES WE WILL NOT STOP EXPRESSING THIS HURT DURING OUR ENDLESS SEARCH FOR A PLACE TO CALL HOME AND BE PROUD OF?

HOW MANY VOTES DOES IT TAKE FOR POLITICIANS TO SEE MORE THAN POLITCAL GAIN WHEN THEY SEE US?

HOW MANY HASHTAGS AND SIGNS CAN WE WRITE THE NAMES OF OUR FALLEN KINGS AND QUEENS BEFORE WE CHANGE THE NARRATIVE?

WHAT HAPPEN TO THE CHANT TO TAXATION WITHOUT REPRESENTATION? WHO REPRESENTS WHEN WE GO TO PRESS THOSE BUTTONS TO VOTE?

I WISH THE PEOPLE OF THE WORLD THE BEST OF LUCK IN THESE UPCOMING YEARS. THE AVAILABLE OPTIONS SEEM TO BE DEATH TO THOSE WITH A VOICE AND A LIFE OF LUXURY FOR THOSE WHO REMAIN SILENT….. WE ARE AS ATTACHED TO THE PEOPLE WHO ARE HURTING US. WE NEED TO MOVE ON FROM ASKING FOR HELP AND MOVE TO BUILD OUR CULTURE AND COMMUNITY FROM GROUND ZERO.
© 2020, Wilde Tuna. All rights reserved.