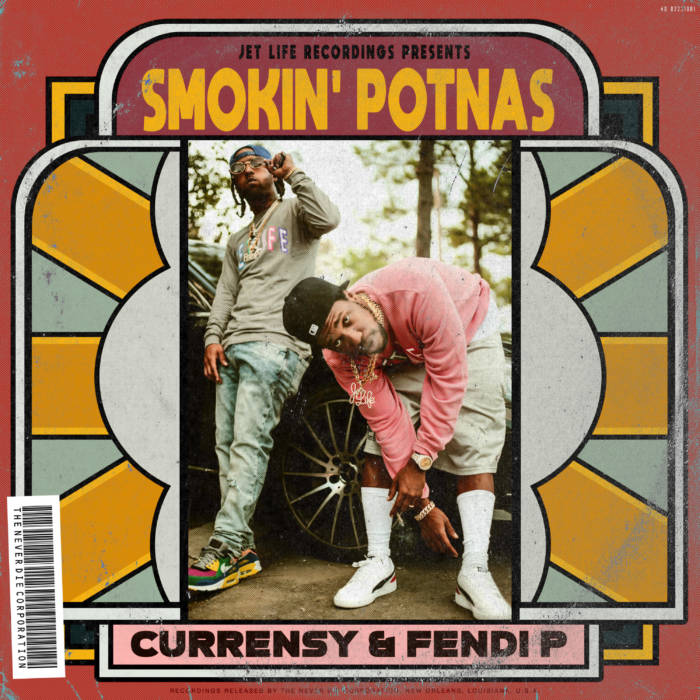 Curren$y has teamed with Fendi P to bring us a new joint tape, Smokin' Potnas, releasing today via EMPIRE. The project sees the New Orleans duo at the top of their game, trading verses about cars, weed, hustling and everything in between over some lush beats.
The whole tracklist molds together seamlessly, but some standouts include the charged up, swaggy, "Swang" and the Sledgren-produced, swanked out heater, "Eye of the Tiger." The project also features lavish production from Harry Fraud, TraumaTone and SmittyBeatz. 
Curren$y & Fendi P – Smokin' Potnas
https://www.youtube.com/watch?v=a5_adGSPTIQ
Every hip-hop head knows that Curren$y (a.ka. Spitta Andretti) never stops working. In the early months of the year, he joined DJ Fresh for the last installment of The Tonite Show series, and most recently dropped off the 3 Piece Set EP. On the flip side you've got Fendi P (f.k.a. Corner Boy P), a Jet Life mainstay who burst onto the Southern rap circuit in 2016 with laid-back, flex-heavy bars. He's coming off a busy 2019, in which he dropped two full-lengths, Fendi P 3,  and Carrera Red. After four years of working with one another, it's hard to believe that this is their first collaborative project.
Smokin' Potnas tracklist:
1. Strategize (Prod. by TraumaTone)
2. The World I Know (Prod. by Sledgren)
3. Swang (Prod. by Smitty Beatz)
4. Stainless (Prod. by Smitty Beatz)
5. Checkered Flag (Prod. by Smitty Beatz)
6. Foreigners Outside (Prod. by Harry Fraud)
7. One Night (Prod. by Smitty Beatz & 808 Ray)
8. Eye of the Tiger (Prod. by Sledgren)
9. Smokin Potna (Prod. by TraumaTone)
© 2020, Seth "Digital Crates" Barmash. All rights reserved.