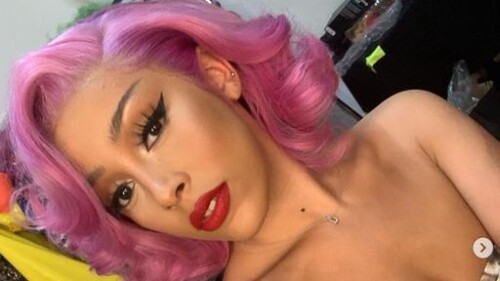 "I don't know how I got it but I got it," she said.
Doja Cat is talking openly about her Coronavirus diagnosis. 
During a meeting with Capital XTRA on Friday (July 25), the 24-year-old rapper said that she was diagnosed with the infection and is capable of making a full recovery. "I got COVID. Honestly, I don't know how this happens but I guess I ordered something off of Postmates and… I don't know how I got it but I got it," she confessed.
"I'm okay now. It was a four-day symptom freak out but I'm fine now," she added.
Doja Cat's admission came after an Instagram Live meeting in which she didn't seem to comprehend the seriousness of the virus. "I'm not scared of Coronavirus," she said during a live stream in March. "You just take some Mucinex and drink water and tea and sleep — that's all you gotta do."
The "Say So" songstress joined a bunch of famous people, who have additionally been determined to have Coronavirus, including D.L. Hughley, Russell Westbrook, Idris Elba and that's only the tip of the iceberg. During Scarface's understanding, he confronted kidney disappointment. 
"COVID attacked my lungs first, and then it attacked my kidneys and knocked them out," he said. "I got full lung recovery, but my kidneys never came back. I'm still a little weak. I don't have a lot of strength in my legs yet. I still haven't got full taste back and sense of smell yet. But, I am glad to be alive."
Beside her ongoing meeting, Doja Cat gave $100,000 to Breonna Taylor's justice fund a month ago. In a post to Instagram, the "Juicy" spitter uncovered the news. "Happy birthday to the beautiful Breonna Taylor, who would have been celebrating her 27th birthday today," she wrote. "I am donating $100,000 to Justice For Breonna Taylor Fund #BIRTHDAYFORBREONNA and I am inviting you all to honor and celebrate her with me by donating whatever you can and signing her petition – the link is in my bio."
© 2020, Jonathan P-Wright. All rights reserved.