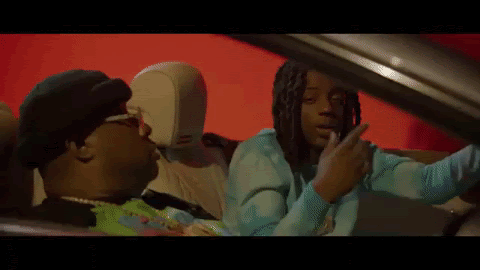 Rapper OMB Peezy releases his new single "Hustle" featuring YFN Lucci and Yungeen Ace. On the song, the three rappers channel their life experiences on the Buddah produced beat lacing their melodies with relatable lyrics. When talking about the inspiration behind the song, Peezy states,"The record is about hustling with priorities, you feel me? Buy a house before you flex. Also, understand that everyone is out for themselves, so you can't depend on anyone to improve your circumstances." While YFN Lucci holds down the hook, Peezy and Yungeen Ace spit their verses audibly embodying a collage of flows.
"Hustle" comes as a follow up to the release of the remix of Peezy's viral single "Big Homie" with guest verses from Jackboy and the late King Von. Fans can expect both songs to be found on Peezy's forthcoming project Too Deep For Tears to be released at the top of next year. As Peezy continues to work on the project, he also released his popular mixtape In The Meantime earlier this year which houses fan-favorite "Sleep At Night" accumulating over 7 million views on Youtube since its release.
Alabama born rapper OMB Peezy is known by his distinctive sound that marries influences to the South and West. Peezy inked a deal with 300 Entertainment and E-40's Sick Wid It Records, going on to release his debut EP, Humble Beginnings, in October 2017, which has amassed over 20 million streams across platforms. Since then, Peezy has continued to make a name for himself in the rap game collaborating with the likes of NBA Youngboy, T.I., Sada Baby, G-Eazy, Lil Durk, Lil Boosie and more. His striking single "Big Homie" recently took over the internet airwaves and has since amassed over 30 Million streams. Earlier this year after embarking on tour with Rod Wave, which was cut short because of Covid, Peezy released his In The Meantime mixtape which quickly racked up millions of views and streams across platforms. Currently, OMB Peezy is working on his next project Too Deep For Tears which will contain the "Big Homie (Remix)" ft. King Von and Jackboy.
KEEP UP WITH OMB PEEZYinstagram / twitter / youtube 
© 2020, Seth Barmash. All rights reserved.