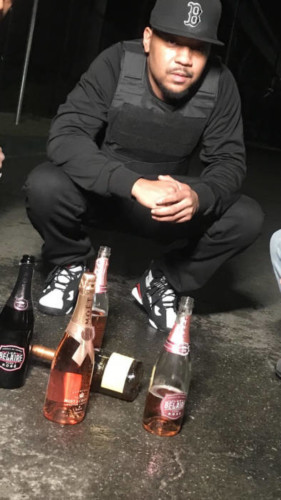 Hip-Hop artist Champagne Menace was born on the south side of Chicago but he was raised and made his name in Altgeld Gardens. Tragedy has helped shape his life, and he speaks on his pain through his music.
With 2020 here, Champagne Menace is looking to put rappers on notice that I can create and compete with the rest. Terrell Thomas sat down with Champagne Menace to get a better understanding of the man behind the music. Champagne Menace spoke on life, music and his new single "Real Tears". Champagne Menace acknowledged that he used "Real Tears" to share the truth through his eyes and the experiences he has encountered and witnessed to this point.
Check out our interview with Champagne Menace below. Follow @eldorado2452 on Twitter and Instagram for all your music and entertainment news.
1.) Terrell: When did you fall in love with music? What drove you to Hip-Hop? 
   CM: My love from music started extremely early. I remember as a kid at the family gatherings watching my parents play spades and jam out to old school r&b. It brought us together. I always loved that feeling. I honestly think the first time I heard ghostface killa feat. Mary j blige "All that I got is you," it was over. Ghost was literally telling my story. I listened to that song every day before school. My number one song ever.
2.) Terrell: What have been some of your struggles as you growing in your career?
CM: Really finding and being comfortable with my voice. Being patient. I started off tryna to force music out. I had to go through some tough times and it allowed me to reevaluate how I wanted to tell the people the truth. They need to hear my side of my story.
3.) Terrell: To date, what is the biggest accomplishment in your career?
    CM: I think having a video make it to world star hip hop was pretty dope. You either did something right or wrong to make wshh and I hope it was right.


4.) Terrell: As your career continues to grow, who are some artist/ producers you would like to work with in the future? 
CM: It would be dope to do some fly music with fab or rozay. But honestly I'm open to doing good music with any dope artist. I don't want to put any restrictions on how creative I can possibly be. I'm talking tech 9 to yo gotti. Everything in between ya dig.
5.) Terrell: Talk to me about your record "Real Tears". Where did the inspiration come from?
CM: I was going through a rough time in my life about five years ago. Seemed like anything that could go wrong went wrong. I wasn't doing music at the time cause I was in a funk. I came home after the club maybe 3 in the morning. Put the beat on and just let my pain out. Let my heart talk. Real Tears. I was just telling my story. 45 minutes into and I was done. It was the start of something special…
6.) Terrell: Where did your name come from? It's there a meaning behind Champagne Menace? 
CM: I was going through a period in life where I was living reckless. I had situation with a officer and he referred to me as a 

menace

 to the community lol… He didn't know what he was talking about. But as I progressed and started getting my life right I begin celebrating every moment I could based on the events in my life where I should be dead or in jail. Everybody took notice when I hit the block or whatever that I had me a bottle of 

champagne

. No matter what. It became a vibe, a lifestyle, a mood. So they start calling me 

Champagne

 

Menace

…
7.) Terrell: Where do you see your career going in the year 2020? 
      CM: I see it going up. I control my destiny. I use to wait around for my peers to get things done. In the end it hurt me and what I wanted to do. I invest in myself. I'm putting together songs, networking with the right artist, making sure I'm not sitting on music and getting it recorded, making sure I drop a visual with each dope song. I'm also getting help from people who've been in the game. What moves to make and how to better my craft. I'm taking full advantage of everything.  My camp is behind me a thousand percent they encourage me every chance they get to keep doing what I'm doing… The response from the people keeps me motivated.
8.) Terrell: If you could work with any artist from the past (Dead or Alive), who would it be and why? 
    CM: If I could work with any artist it would have to be Tupac. His work ethic was unmatched. When I go to the studio I'm ready to get in record, finish the track and get to the next. I'm not a fan of wasted time or money so when it's go time let's handle business and play later. Plus with pac you could get political, tell your mama how much you love her (dear mama), go to war (hit'em up), or talk boss talk (all eyez on me). He could hit you from so many different lanes not just one or two. Plus he had a eye for fashion and acting. He did it all. 
9.) Terrell: What's next? Where do you want to be in the next 5 years? 
      CM: Honestly if the opportunity presents itself I hope to be invested in the business side of things. I want to sign artist and be behind the scenes making business deals. I want to build a brand that's able to do joint ventures. Basically I want to rock Taylor fitted suites and allow my money to make money and that money make money. Just like the bar in my latest song Real Tears, "I'm addicted to the hustle, I don't need no help."
© 2020, Eldorado2452. All rights reserved.