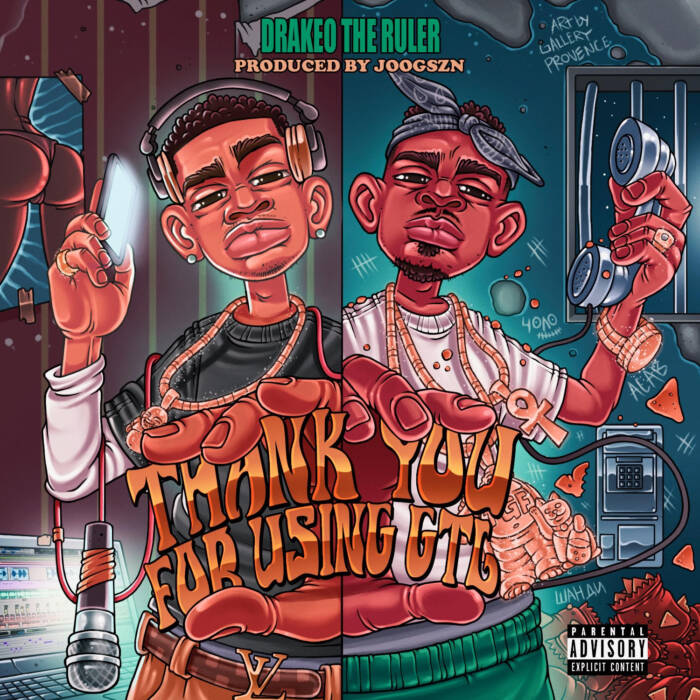 There could never be another Drakeo The Ruler. Currently pending retrial for a crime for which he was already acquitted, Drakeo recorded an 18-track mixtape through a prison phone over the span of two weeks with his producer JoogSZN. Thank You For Using GTL (GTL is the inmate telecommunications system of choice for LA County) is top tier Drakeo. Along with the announcement Drakeo shares two singles, 
"GTAIV," and "Backflip Or Sumn," and both offer a taste of what you can expect on the full length — his bars are whip-smart, absurdly funny, and anxious for what the future holds for him.
Thank You For Using GTL features JoogSZN, Rio Da Young OG, ALLBLACK, Lil 9, and will be out everywhere on 6/5 via Stinc Team Records.
Drakeo's legend grows larger by the day. The 26-year-old has kept his name in the headlines with a torrent of remixes, recruiting the likes of Earl Sweatshirt, Danny Brown, OhGeesy, Lil Yachty, and others to put a new spin on career highlights like "
Ion Rap Beef
," "
Out The Slums
," and "
Flu Flamming
." In March, Drakeo shared 
Free Drakeo, 
a compilation of loose singles and unreleased material with appearances from 03 Greedo, Maxo Kream, SOB X RBE, Rio Da Young OG, Desto Dubb, and more. Most recently, Drakeo recorded a remix of his own, talking his smack for six-and-a-half minutes over the beat from Shordie Shordie's Platinum-selling "
Bitchuary
."
Drakeo The Ruler & JoogSzn – Thank You For Using GTL tracklist:
Intro
Quit Rappin
Tell You the Truth
GTAIV
Backflip or Sumn
Keep it 100
R.I.P. Barneys
Bad Timing
Social Media Can't Help You
Maestro's Tension
Fuck the Party Up ft. Rio Da Young OG
ChalkZone ft. Lil 9
Pressure
I Want It All
It's A Secret ft. ALLBLACK and Joog
Spousal Abuse
Ice Chili
To Be Honest
Fictional
© 2020, Seth "Digital Crates" Barmash. All rights reserved.