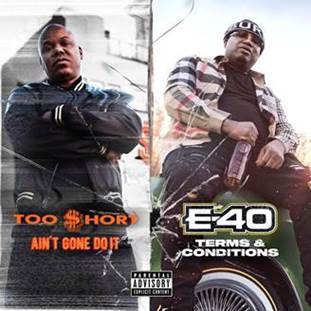 Today, Too $hort and E-40  release a bundled album on Friday, Dec. 18 that will feature each artist's new and respective solo albums with 10 songs apiece ahead of their highly-anticipated Verzuz battle.  
As part of Friday's release, Too $hort will be unveiling his 22nd solo studio album, Ain't Gone Do It, via Trunk Productions, Inc. / 3T Entertainment / EMPIRE, and will feature appearances from E-40, G-Eazy, Guapdad 4000, Mistah F.A.B., Rayven Justice, Bosslife Big Spence, Tiny MD and Reg Black as well as production from Nonstop Da Hitman, ProHoeZak, Ekzakt, Syrum and AyDiosMio, among others.
Meanwhile, E-40 will be dropping his 27th solo studio album, Terms and Conditions, via Heavy on The Grind Entertainment, Inc. / EMPIRE and will include collaborations with Too $hort, Freddie Gibbs, G-Eazy, Brent Faiyaz, Gashi, Drakeo the Ruler, Larry June, Symba, Capolow, Pimpin Ken, Trae Suave, Blxst, Turf Talk and Stresmatic and more along with production from Mally Mall, Helluva, Scoop DeVille, Rick Rock, Bedrock and Lil Rece, among others. The bundle album from $hort and E-40 is available HERE and marks the second release the two have dropped together, following 2012's collaborative History double album. 
The news comes as the two esteemed legends are set to go head-to-head in a Verzuz battle of the Bay Area this coming Saturday, Dec. 19 at 8 PM ET / 5 PM PT, as they highlight their impressive discographies, share stories and showcase friendly competition. To celebrate the momentous occasion, $hort and E-40's new joint song, "Triple Gold Sox," is available as an instant gratification track for those who pre-order the bundle album. Watch the visualizer for "Triple Gold Sox" HERE.
Both $hort and E-40 also filmed Verzuz video spots with Golden State Warriors star Steph Curry and Portland Trailblazers (and Bay Area native) star Damian Lillard. You can watch the Too $hort and Lillard spot HERE and the Curry and E-40 spot HERE.
With the release of Ain't Gone Do It in 2020, $hort will have released an album in five different decades, punctuating an already vast catalog that includes platinum albums such as Life Is… Too Short, Short Dog's in the House, Shorty the Pimp, Get In Where You Fit In, Cocktails, Gettin' It (Album Number Ten), etc. A heavyweight of our generation and a pioneer of West Coast rap, he also has the unique distinction of being the only active hip-hop artist to have features with Tupac, The Notorious B.I.G. and JAY-Z. $hort is releasing his new album exactly a year since he dropped his last project, The Vault, in December 2019, which included collaborations with the late-great UGK legend Pimp C, comedian Mike Epps, Mistah F.A.B, Gin Gin, Shorty B, PeeWee and Yung Holliday.
Over the course of his storied career, E-40 has earned several platinum and gold certifications for his music, including 2006's "Snap Yo Fingers" with Lil Jon and Sean P, 2012's "Function (feat. YG, Iamsul and Problem)," 2014's "I Don't F*ck With You" with Big Sean and 2016's "Law" alongside Yo Gotti. For E-40, this new album comes one year after Practice Makes Perfect, the second installment from the Definitions trilogy, which featured guest appearances from Anthony Hamilton, A$AP Ferg, Chris Brown, Fabolous, G-Eazy, Quavo, Rick Ross, Roddy Ricch, Scarface, Schoolboy Q, Tee Grizzley, Wiz Khalifa, Method Man, Redman and more.
Too Short – Ain't Gone Do It (Tracklist)
1. Ain't Gone Do It ft. E-40 (produced by ProHoeZak)
2. Oaklandish ft. Guapdad 4000 and Rayven Justice (produced by Ekzakt)
3. Digital Trick ft. Mistah F.A.B. (produced by Ekzakt and Syrum)
4. Pimpin's All I Know ft. Tiny MD (produced by AyDiosMio)
5. 10k Remix ft. Bosslife Big Spence & G-Eazy (Produced by Drew Banga)
6. Real Oakland ft. Reg Black (Prod by Kamoshun)
7. Triple Gold Sox ft. E-40 (Prod by Any Banks)
8. Good Pussy Walk ft. Rayven Justice (Produced by Nonstop Da Hitman)
9. I Stay Up ft. Zyah Belle (produced by Ryan Hartung)
10. Fuck Yo Speakers (produced by Bosslife Big Spence)
E-40 – Terms and Conditions (Tracklist)
1. Making a Play ft. Turf Talk & Stresmatic (prod. by Rick Rock)
2. MOB (prod. by The Mekanix)
3. Still ft. Blxst & Drakeo the Ruler (prod. By OG Parker & Smash David & Bass Charity)
4. Pass the Chalice ft. Symba & Capolow (prod. by Helluva)
5. Girl I See You Winning ft. G-Eazy & Gashi (prod. by Mally Mall & Diego Ave)
6. Swangin ft. Brent Faiyaz & Too $hort (prod. By Lil Rece)
7. Dapper Don ft. Freddie Gibbs, Larry June & Kid3rd (prod. By Scoop DeVille)
8. Dress Like a D-Boy ft. Stresmatic (prod. By Rick Rock)
9. Tricks ft. Too $hort & Pimpin Ken (prod by Ekzakt & Julia Lewis)
10.   P's and Q's ft. Trae Suave (prod. By Bedrock) 
https://open.spotify.com/album/09jvKfjn3Ny9yqhxrQAGd3
© 2020, Seth "Digital Crates" Barmash. All rights reserved.