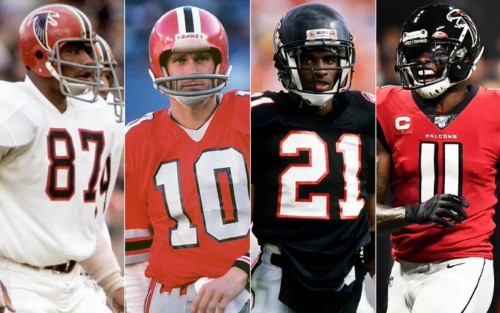 For years, fans of the Dirty Birds here in Atlanta have been asking for their beloved Falcons to rollout new uniforms. Well Falcons fans, your prayers have been answered. Earlier today (Jan.14th), Atlanta Falcons owner Arthur Blank announced the Falcons will have new uniforms for the 2020 NFL season.
New year. New threads.

Coming soon… pic.twitter.com/kVd2qdT2RV

— Atlanta Falcons (@AtlantaFalcons) January 14, 2020
Arthur Blank and the Falcons took to twitter to make the announcement and Mr. Blank also shared a letter with fans. Arthur Blank announced the uniforms would be revealed in April, most likely close to the 2020 NFL Draft. The Falcons last made changes to their uniforms back in 2003.
"Time and again, we've heard you ask for new uniforms over the years," Blank wrote. "We've listened to your feedback and worked closely with Nike and the NFL over the past two years to create a look that represents you and reflects Atlanta's culture, pride and unity."
This will be the Falcons' first full-scale uniform change in 17 years.
What would you like the Falcons uniforms to look like? Do you want more of the 1990's look or the current look? Let me know on social media @Eldorado2452. Follow @eldorado2452 on Twitter and Instagram for all your sports news.
© 2020, Eldorado2452. All rights reserved.