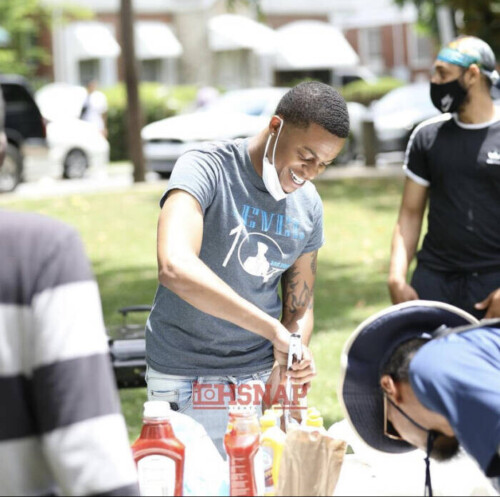 (Atlanta, GA – October 4) Level 10 & Friends is gearing up for their 5th  Annual Feed The Homeless event hosted on Sunday, December  19, at 12 PM ET. Level 10 & Friends originated November 2016 in the city 
of Atlanta. They're an organization that primarily focus on promoting self  love and decreasing poverty in urban communities by hosting niche  donation drives throughout metro Atlanta. With donation drives, they  incorporate music artists, others of high impact, and influence to volunteer  and assist to enhance the overall experience and ensure surplus support to  those that are in-need. With stalwart support from massive brands such as  Waffle House, Dollar General, Young Stoner Life Records, and many  more great sponsors, they had the opportunity to feed over 5000  individuals and counting over the past 4 years consecutively. 
Serial entrepreneur, philanthropist, and model AJ Dewberry has received  a plaque and various media support for his impressive philanthropy  contributions to the city of Atlanta. AJ is also the owner of Level 10  Repairs, a cell phone repair company, located in the heart of Atlanta. Level  10 Repairs has became an on-call service provider for celebrities and their  families (i.e. Love & Hip Hop Atlanta, Grand Hustle, BET, Tyler Perry  Studios, VH1, YSL and many more).  
AJ Dewberry has recently teamed up with Young Stoner Life Records for  a back to school drive at Cleveland Avenue Park. With additional support  from sponsors, both brands provided food, Book bags (including school  essentials), games, haircuts, and much more! AJ's goal is to team up with  other notable artists and brands to curate an events similar. Previous guest  from Level 10 & Friends events include Keith Dorsey, Collab Crib,  Jhacari, and many more. If you're interested in hearing more about Level  10 & Friends and AJ Dewberry or interested in donating for a great  cause, please click the links below.  
AJ Dewberry  
Instagram | Facebook | Website
© 2021, alanna. All rights reserved.