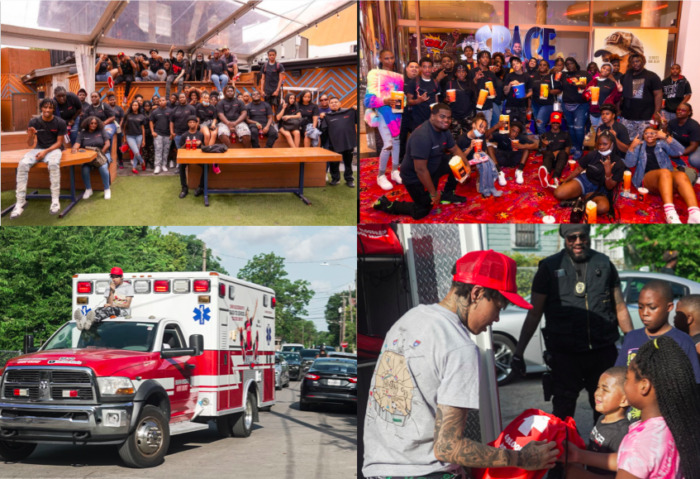 Houston native artist OMB Bloodbath continues to give back to her city this summer, following the release of her project Blood Sample, hosting events for local Houston kids. Just recently, with the Back To School "Blood Drive" she gave out 500 backpacks full of essentials for schools and brought excitement and hope to those kids when they head back to school this fall. Prior to that she offered an easily digestible, real-life educational program with 'Everybody Learns Summer Kamp' mentoring the Houston youth.

OMB Bloodbath hosted her Back To School "Blood Drive" and drove around the city of Houston in a branded Blood Sample ambulance playing her hit single "Don't Do It". She successfully offered children 500 backpacks with free school supplies — paper, pencils, pens, folders, glue sticks and hand sanitizer. Last month, in partnership with LVRN, 10:22pm, Marca Unica and U Got This, Bloodbath presented 'Everybody Learns Summer Kamp' mentoring the youth of ages 15 to 21 by entertainment industry leaders, teaching entrepreneurial skills. In addition to mentoring, participants toured KAMP, one of Houston's most popular venues, to better understand event management and become familiar with the multiple job opportunities currently available throughout the service industry. They ended the day with a celebratory screening of Space Jam: A New Legacy movie. 

OMB Bloodbath released her debut EP, Blood Sample via 10:22 PM/LVRN on July 28th. 

###
About OMB Bloodbath:Representing Houston's historic Third Ward, OMB Bloodbath is in a class of her own. While 2020 was a wild ride for everyone, it was OMB Bloodbath's pivotal year. The release of "Dropout" with fellow Houston star Maxo Kream fanned the flames for what was to come. The song cracked 750K organic views in no time on YouTube and is currently inching towards a million. Her hustle paid off, when Blood secured a deal with 10:22 PM and Love Renaissance (LVRN), in partnership with Interscope Records. 

About Love Renaissance:Love Renaissance (LVRN) is a record label and management company who specializes in talent management, creative direction and production, as well as marketing and strategic partnerships including serving as a home to LVRN Studios in Atlanta. 

About 10:22:Universal Music Group's 10:22pm is an innovative media company committed to signing and developing recording artists and digital creators with a focus on developing multimedia content, recorded music, consumer products and advancing new forms of storytelling.
© 2021, Seth Barmash. All rights reserved.