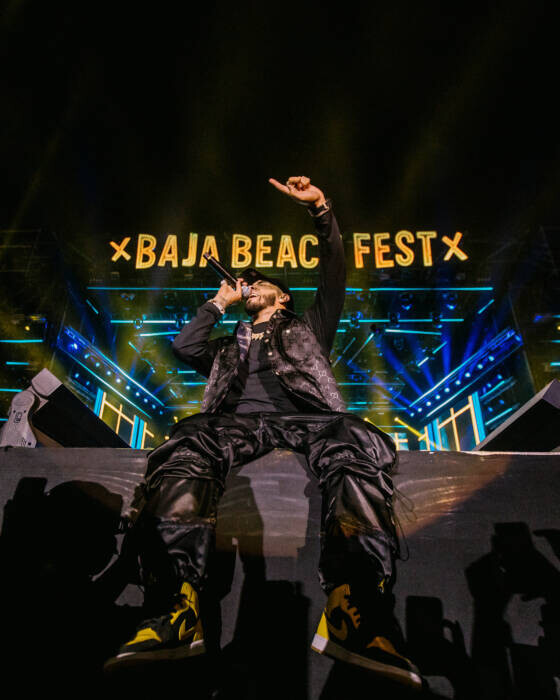 Baja Beach Fest is more than just a concert, it's a communal celebration of Latin music and culture. Between each set, festival host DJ Fredy Fresco treats the crowd to Latin hits from through the decades–ranging from 1998's "Suavemente" to 2004's "Gasolina" to 2019's "Te Boté." The endless parade of Latin hits keeps the crowd energized, but it also gives crucial context to the music of the festival's performers, situating them in a long and noble tradition of Spanish-language sounds.
Saturday's acts more than lived up to that standard. Anuel AA brought his smoky-voiced bravado to his first ever BBF performance. Versatile hitmaker Farruko brought down the house with his first ever performance of the electronic crossover smash "PEPAS," and Puerto Rican reggaetoneros Myke Towers dug into his deep bag of hits, and Miami native up-and-comer Mariah stole the show, performing her hit Karol G collaboration "EL MAKINON."
This year, the open-air, oceanside Baja Beach Fest was able to proceed due to its rigorous safety protocols. All guests entering the festival were required to show proof of vaccination, or to provide a negative test (taken within 72 hours of the festival's start) from a COVID Clinic location. While in the festival, guests are required to wear masks, unless actively eating or drinking. The comprehensive safety protocol sets a gold standard, paving a path forward for live music to proceed safely in an uncertain time, and for festival-goers to hear the music they love in a communal setting once again.
Founded by Chris Den Uijl and Aaron Ampudia in 2018, Baja Beach Fest is well on its way to becoming an institution in Rosarito and the music industry at large. Tomorrow, the first weekend of the 2021 fest ends with a bang, promising some of the event's most notable performers, including headliner J Balvin, "Relación" hitmaker Sech, pop phenom Becky G, rising superstars Rauw Alejandro & Jhay Cortez, plus many more. 
When Ozuna and Mark B sang "El día está pa' playa y arena, la vamos a pasar muy bien" in 2016, they very well may have been foreseeing the launch of the Baja Beach Fest two years later. After a remarkable inaugural year, Baja Beach Fest is back for its sophomore year, celebrating the Latin community, beach vibes, and young Latin trap/reggaeton music. The first and only festival of its kind –– Baja Beach Fest Fest is held on the sand of the oceanfront resort of Rosarito, creating an all-encompassing experience of music and coastal feels. It was imagined into existence by two friends, Chris Den Uijl and Aaron Ampudia, and dedicated to the local community who wanted to bring the world's most streamed artists together for a weekend of music. The 2021 edition of Baja Beach Fest brings an expansion from one two-day weekend to two three-day weekends, and promises performances from headliners Anuel AA, J Balvin, Ozuna, and Karol G.
© 2021, Seth Barmash. All rights reserved.