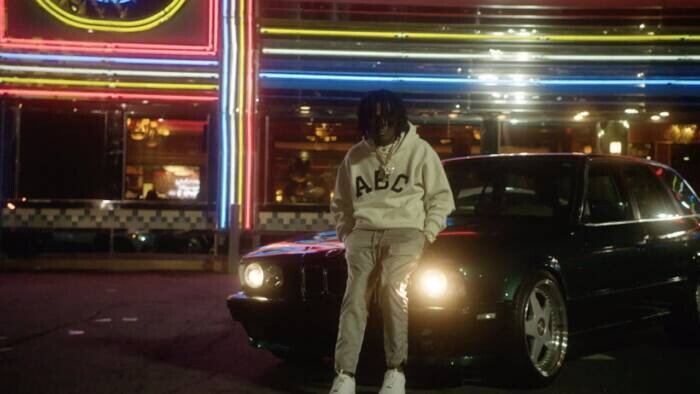 Booka600 values loyalty above all else, doing everything he does for his Only The Family brethren. Paying tribute to one of his closest and most talented friends, Booka takes the time to mourn King Von in the video for "Apart." Produced by AyeTM, "Apart" drips with deeply felt emotion, as Booka's expressive singing and plainspoken lyrics communicate the deep loss he feels, as well has his determination to do justice to Von's enormous legacy: "I just cast away my tears, there's no remorse, I'm out to get 'em/I be listenin' to the walls, wishin' I can really hear you." In the video, Booka sits back in the Marietta Diner outside of Atlanta, taking time to have a heart-to-heart with Von's nephew, hoping to instill the values that helped the late rapper reach great heights.
Following recent clips for "Turkey Season" ft. Lil Durk & Chief Wuk and "JUMP" ft. Lil Durk, King Von, Booka600 & Memo600,"Apart" is the latest video from Loyal Bros, the Only The Family label compilation mixtape, which debuted in the top 20 of the Billboard 200 upon its release in March. Exploring the kinship forged by the hardship of growing up in the trenches, Loyal Bros showcases the talents of label founder Lil Durk and his label signees, who always make music with the streets in mind. The project features contributions from Lil Durk and posthumous verses from King Von, but also takes time to showcase the label's supremely talented, less-heralded artists like Booka600, Memo600, Timo, Doodie Lo, JusBlow600, THF Zoo,and C3. In addition to OTF's talented roster, Loyal Bros welcomes several high profile guests, including Lil Uzi Vert (who connects with Memo600 for the standout track "Let It Blow," Durk's frequent collaborator Tee Grizzley (who has his own solo track on the project), and The New 1017 standout Foogiano. Loyal Bros is available everywhere via Only The Family/EMPIRE.
Stay tuned for much more from Booka600 and Only The Family as 2021 moves along.
Long Live King Von.
Watch "Apart" ft. Booka600: https://www.youtube.com/watch?v=YrBMfLJdaa8
Buy/Stream Loyal Bros: https://music.empi.re/loyalbros
© 2021, Seth "Digital Crates" Barmash. All rights reserved.