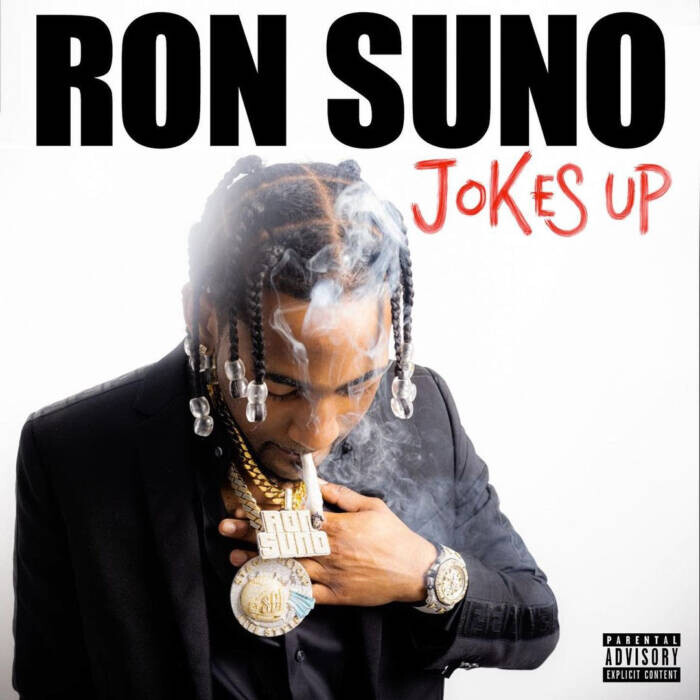 Unleashing an endless torrent of punchlines with his forcefully nimble flow, Ron Suno is a funny guy with serious talent. Dropping the comedic facade and letting the artist shine through, the 20-year-old Bronx native shares Jokes Up, his new project. A master of many disciplines, Suno approached the creation of Jokes Up with laser focus, determined to prove his worth as a rapper. He used to create songs by freestyling, but for the music on Jokes Up, Ron flexed his pen game, focusing on the message of his music and massaging his bars until they seamlessly flow together. Combining a locked-in flow with snappy lyricism and quips that humorously undercut his bravado, the SBL rapper takes his emceeing to a new level on Jokes Up, nimbly tiptoeing atop skittering hi-hats and going toe-to-toe with some of the finest rappers in the Five Boroughs.
"Jokes Up is an elevation," says Ron Suno. "All my life I've been challenged. People thought I couldn't be serious. With Jokes Up, I'm showing people that I'm one to be taken seriously, even if not everything I say is serious. My last project, Swag Like Mike, was a project that introduced me and showed off my personality. On Jokes Up, I want to prove that I'm one to watch for the future. I'm Ron Suno, you gotta know me."
The music on the project bears many of the signatures of NYC drill–sliding 808s, ominous pianos, and syncopated snares–but is infused with Ron's flair for the dramatic: when picking backing tracks, Ron searches for beats with operatic grandeur, often with a hyperactivity that evokes video game boss battles. To Ron Suno, drill is about much more than acting tough–Ron's strain of drill makes the case for the style as party music, perfect for dancing and having fun. The project is home to recent singles like "Winners," a fiery new collab with Brooklyn figurehead Sheff G that has over 1.7 million views on YouTube, "Bandit," a fiercely slick banger with over 1 million YouTube views, and "Drill Zoo," featuring the one-and-only Fetty Wap. Featuring additional appearances from DDG and Jay Critch, Jokes Up is available everywhere via SBL, LLC / EMPIRE.
Along with the project, Ron Suno prepares to share the video for "Grabba," a Jokes Up highlight, releasing at 3pm ET today (the YouTube premiere goes live at 2pm). Blessed with a haunting drill instrumental populated by haunting synths and see-sawing 808s, "GRABBA" is an outrageously confident flex fest, the 20-year-old rapper stringing together boisterous boasts with verbal flair: "Told her to rate me on a scale from 1 to 10, goddamn I nearly broke the meter." In the video, directed by his frequent collaborator David Janoff, Ron continues his mission to make people understand drill music's party potential. He rocks a vintage Ray Allen Milwaukee Bucks jersey as he hits up his favorite bodegas, and splices in comedic clips of the charismatic rapper interacting with Bronx locals. The video ends with a snippet of the project's opening track "SEMI," a more somber track that shows off the side of Suno that people have not yet seen.
Ever since dropping Swag Like Mike, featuring hit singles like "SPIDER-MAN" ft. Fivio Foreign, in 2020, Ron Suno has been on an unstoppable upward rise, collaborating with rappers like DDG and Smoove'L, speaking with XXL and FLAUNT, and co-starring in BK Juice, a new film by his NYC cohort Rah Swish. The sky's the limit for the young riser, who obliterates the boundaries between mediums with his force of personality.
"I want Jokes Up to give my fans the courage to be themselves," says Ron Suno. "When you listen to my music, you're hearing me. I'm not trying to be or sound like anybody else. When you're being yourself, the only person who can stop yourself is you."
Buy/Stream Jokes Up: http://music.empi.re/jokesup
© 2021, Seth "Digital Crates" Barmash. All rights reserved.