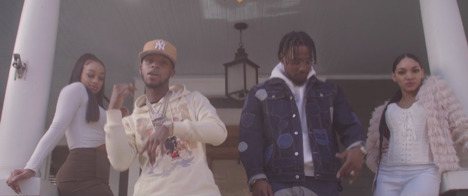 Today marks the release of Atlanta native singer, songwriter, and rapper BRS Kash and New York singer/rapper Toosii's sensual video to their hit-track "Feel Better" off mixtape Kash Only. On the melodic track, Kash slows down his signature up-tempo sound – together they tap into their emotions sharing their feelings on their loved ones over gloomy guitar cords. In the video directed by Caleb Seales, we get a glimpse inside of Kash's romantic relationship. He shows his affection with lavish gifts while describing how much time with his partner is important to him — Watch HERE.
At the top of the year, BRS Kash released his critically acclaimed debut mixtape, Kash Only. The 12-track project features collaborations with DaBaby, City Girls, and Mulatto as well as viral Platinum-selling "Throat Baby (Go Baby)" which helped skyrocket his career. Today the track has amassed nearly 500 million global streams. The song originally gained popularity in the nightlife of Atlanta which then led him to a record deal with LVRN/Interscope Records with Team Litty. As the track continued to grow, it made a major splash on TikTok and now has over a million combined creates.
Rapping since the age of 12, BRS Kash draws inspiration from Southern legends like Juvenile and Big Boi, blending the gangsta drawl of the region's greats with the charming sensuality of a modern R&B star. As Kash's career has taken off, the melodically blessed Atlanta rapper has strutted into the spotlight with confidence—a sense that his star is rising and you can either jump on or fall off. His voice is silky-toned, his bars are always diamond-sharp, and he's hellbent on proving his versatility as a songwriter. Regardless of what topics he touches, BRS Kash does it with a natural ear for hooks and remarkable ease. With each song, he earns that assured swagger, but there's also something else at work. The man makes moves like he's fulfilling his destiny. To be sure, rap is in Kash's blood. Many Atlanta MC's began freestyling on street corners long before they hit a studio, but few can claim to have been nourished on beats, rhymes, and the creative process while in the womb. His mother once rapped in the girl group Leather & Lace and his motivation is familial too. Kash's father was incarcerated when he was just 6 years old, and their relationship informs the style and substance of his music. "As a kid I would do everything with him," the rapper recalls. "For him to just up and leave was traumatizing." The young Kash vowed to stay away from the streets despite knowing that so many of his local heroes got by on sidewalk hustles before they were famous. Ultimately, though, he found solace, catharsis, and—as "Throat Baby" proves—joy in music. "Music is a way for me to express myself," he says. "It's a way for me to vent. It's a way for me to talk." And, now, others are listening. 
© 2021, Seth Barmash. All rights reserved.