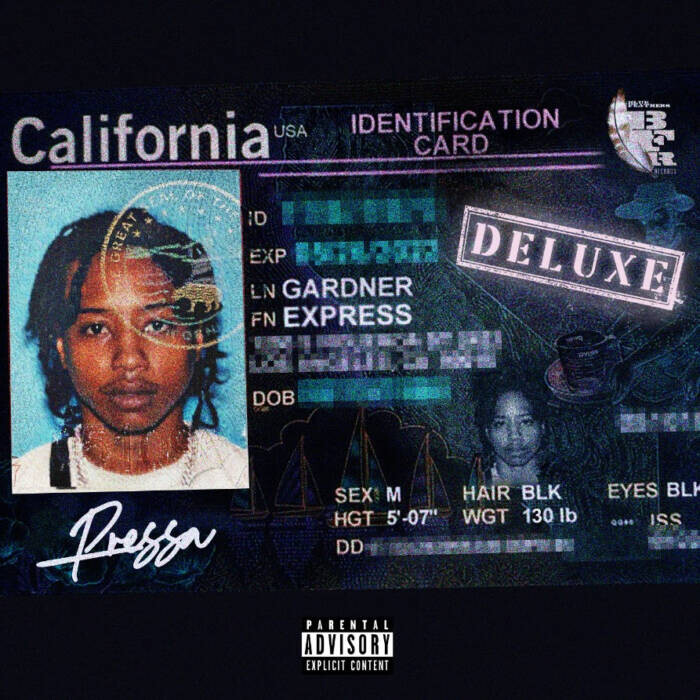 At only 25 years old, Pressa has garnered recognition from both sides of the border with the help of his street smart lyrics and distinctive melodies. Debuting his first full-length major label project, Pressa shares Gardner Express (Deluxe), an expansion of his successful 2020 EP. The title of the project is a play on words referring to Pressa's last name (Gardner) and the Gardiner Expressway, a major highway running through his hometown, Toronto. Featuring collabs from Swae Lee, Coi Leray, and Rowdy Rebel, the Deluxe adds seven tracks that tackle the concepts of a challenging upbringing in the Driftwood neighborhood and the strains that come from feeling tied to his hometown, but L.A. being the best for his career. Delving into his cross-cultural conflict on "Chocolate Audemars," Pressa raps, "California ain't really for everyone / Chocolate not vanilla uh / I'm a gypsy, I'm a traveler." Complete with spatial audio mixing by the legendary Mike Dean, Gardner Express (Deluxe) is available everywhere via Sony Music Canada.
In the run-up to his Deluxe project, Pressa shared "Second Hand Smoke," a bad-kid-made-good anthem and "Attachments (Remix)" ft. Coi Leray, a single detailing Pressa's experiences in the trenches. Originally released on the first version of Gardner Express in December 2020, "Attachments" ft. Taliban Glizzy became a breakout hit from the project, with fans gravitating towards Pressa's infectious hook and gritty lyrics about a deadly day in Driftwood. In the spring, Pressa hooked up with Coi Leray to deliver "Attachments (Remix)," further building buzz and generating over 6.1 million YouTube views on the sultry video. "Attachments" has become Pressa's biggest global hit to date, generating over 44.3 million global streams across both versions and earning Platinum certification in his native Canada.
With over 90 million global streams to date, the original version of Gardner Express is home to multiple high-profile collaborations, including "Head Tap" featuring Brooklyn drill rappers, Sheff G and Sleepy Hallow and "Blackberry Zap" ft. Jackboy. The project features additional appearances from Flipp Dinero, D Block Europe and Taliban Glizzy. With coverage in outlets like Complex and HotNewHipHop, and interviews with Ebro Darden on Apple Music, No Jumper, Montreality, and more, Gardner Express is a deeply personal, speaker-knocking project from one of the hottest emcees north of the border.
Buy/Stream Gardner Express (Deluxe): https://Pressa.lnk.to/GardnerExpressDeluxe 
© 2021, Seth "Digital Crates" Barmash. All rights reserved.