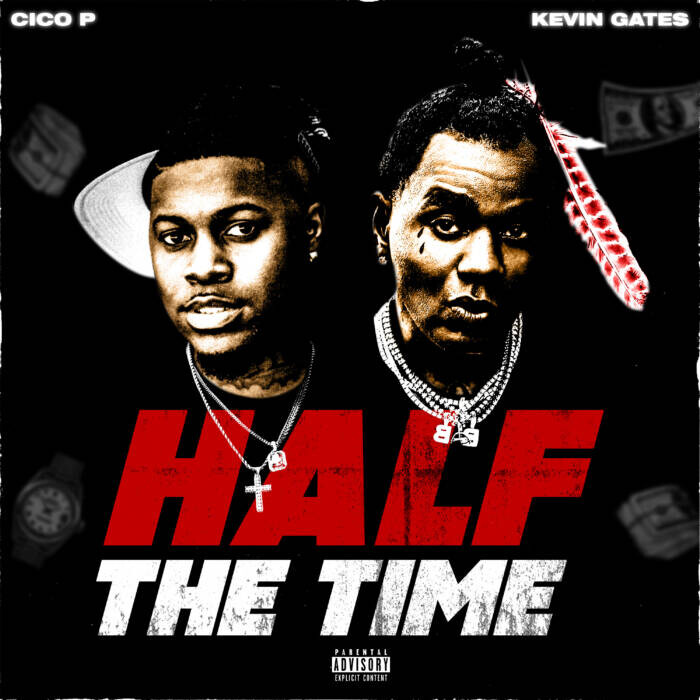 Riding a wave of viral momentum with his hit song "Tampa,"Cico P is seizing his moment. Coming through with a melodic and sensual new video single, Cico shares "Half The Time." A collaboration with heavy-hitter Kevin Gates, "Half The Time" is a change of pace for the Jacksonville, Texas rapper, trading in his clipped triplets for languid auto-tune as he declares his X-rated intentions. Cico and Gates display a fruitful chemistry, their bottom-of-the-map drawls dovetailing around submerged organ and crisp handclaps, as they work through their feelings, which vacillate between tender and lustful.
In the video, Cico P and Kevin Gates share intimate moments with their lady friends and show off their luxury coupes. Following up the engaging, hometown-set video for "Boogieee," "Half The Time" is the latest video from Nawfjaxx, Cico's next project. Delving into Cico's upbringing in his small East Texas town, and exploring the ins-and-outs of being a rising rap star, Nawfjaxx arrives on July 14th.
"Half The Time" arrives amidst the meteoric rise of Cico's single "Tampa," which peaked at #91 on the Billboard Hot 100 in May. Originally released in late 2019, the song began its steep climb in March when the song, and particularly its lyric "that boy bad news he a menace to society," became the center of a popular TikTok trend, inspiring over 137k video creations and propelling "Tampa" to the top of Spotify's U.S. Viral 50 chart. Over 57 million streams later (including 7.9 million views on the YouTube video), "Tampa" broke into the Top 50 streaming charts on Apple and Spotify (where it peaked at #47), reached the Top 30 of the U.S. Shazam charts,and the Top 50 of the Rolling Stone Chart. Thanks in part to Tampa, Cico has seen his streams increase over 500 fold, catapulting him to #3 on Rolling Stone's latest Breakthrough 25 chart and earning Cico recognition from YouTube as an Artist On The Rise. "Tampa" has been featured on prominent Spotify playlists like Rap Caviar, Hip Hop Central, Internet People, and Teen Party, as well as Today's Hits, Rap Life, Viral Hits, Future Hits, Chill Rap, and On Repeat on Apple Music.
Stay tuned for more music and announcements from Cico P in the coming weeks, including much more information about the Nawfjaxx project.
Watch "Half The Time" ft. Kevin Gates: https://youtu.be/LUHhIlAV13E
Buy/Stream "Half The Time" ft. Kevin Gates: https://cicop.lnk.to/HalfTheTime
Buy/Stream "Tampa": https://cicop.lnk.to/tampa
© 2021, Seth "Digital Crates" Barmash. All rights reserved.