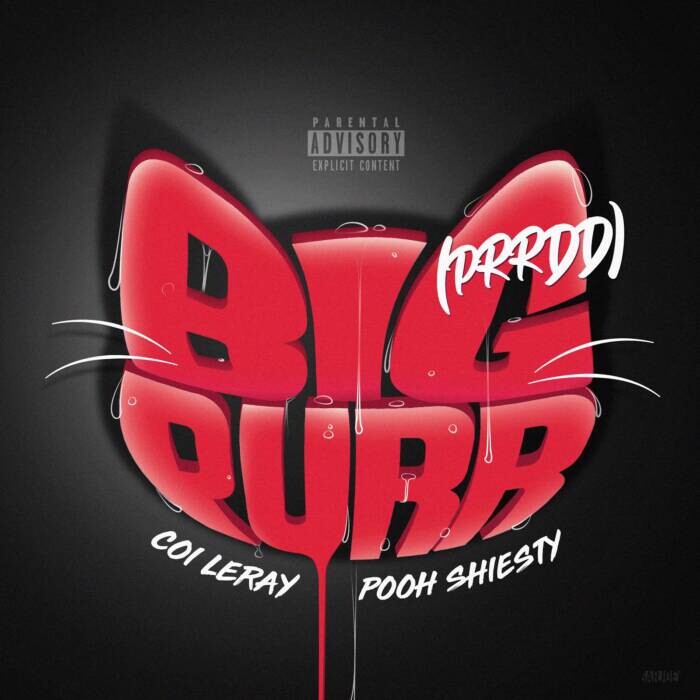 Picking up steam with one banger after another and consistently breaking the internet, budding star Coi Leray bares her claws yet again on her new single "Big Purr (Prrdd)" [feat. Pooh Shiesty] today. Listen to "Big Purr (Prrdd)"—HERE!
She initially teased the track on social media, and it incited a groundswell of anticipation. It has already inspired 550 thousand video creates with 12 million views on TikTok and counting, while the YouTube teaser video racked up 1 million views. On the track, the sound of a sharpened sword pierces the classical piano before a punchy beat takes hold. Coi Leray and gold-selling Memphis phenomenon Pooh Shiesty trade raw and raunchy bars before locking into a hard-hitting hook.
It arrives on the heels of her "No More Parties (Remix)" [feat. Lil Durk]. Of the latter, UPROXX observed, "Coi Leray's 2021 is off to a great start and it comes as a result of her 'No More Parties' track," and REVOLT christened her, "definitely one of the artists right now."
Upon release, the original "No More Parties" landed on the Billboard Hot 100, Rolling Stone 100, Apple Music Top 20, and Spotify's Viral Hits! It's currently #2 on YouTube's Top 100. On TikTok, the song has already cracked over 250 million views, 50 million likes, and counting in addition to receiving widespread praise. It picked up plugs from REVOLT, HotNewHipHop, and KAZI who promised, "Coi Leray has already set the tone for the rest of the year."
With raw rhymes, traffic-stopping vocals, and inimitable energy, Coi Leray carves out a lane of her own as a dynamic, dangerous, and different kind of pop star. The New Jersey-born and Los Angeles-based rapper, singer, and all-around firebrand first sunk her claws into the culture with the 2018 independent breakout mixtape, Everythingcoz. In its wake, she unleashed the acclaimed sequel EC2 [2019] and Now Or Never EP [2020] and racked up a total of 124 million cumulative streams and counting. Beyond collaborating with everyone from Gunna and Fetty Wap to Kiana Lede, she appeared on the blockbuster Spider-Man: Into the Spider-Verse Soundtrack. Along the way, she also graced the cover of KAZI and garnered plugs and praise from HYPEBAE, Essence, BET, Pitchfork, REVOLT, Def Pen, PAPER, and Cosmopolitan who put it best, "The girl has got pipes y'all!" She ignited 2021 with her biggest and boldest banger to date the chantable "No More Parties." Only a clip shook TikTok with over 250 million views and over 950 thousand videos, setting the stage for the song to take off. Most importantly, it bulldozed the path for her next full-length project in 2021. Coi's traveling her own lane at high speed and simply leaving the competition in the dust.
Follow Coi Leray: Instagram YouTube Twitter Spotify
© 2021, Seth "Digital Crates" Barmash. All rights reserved.