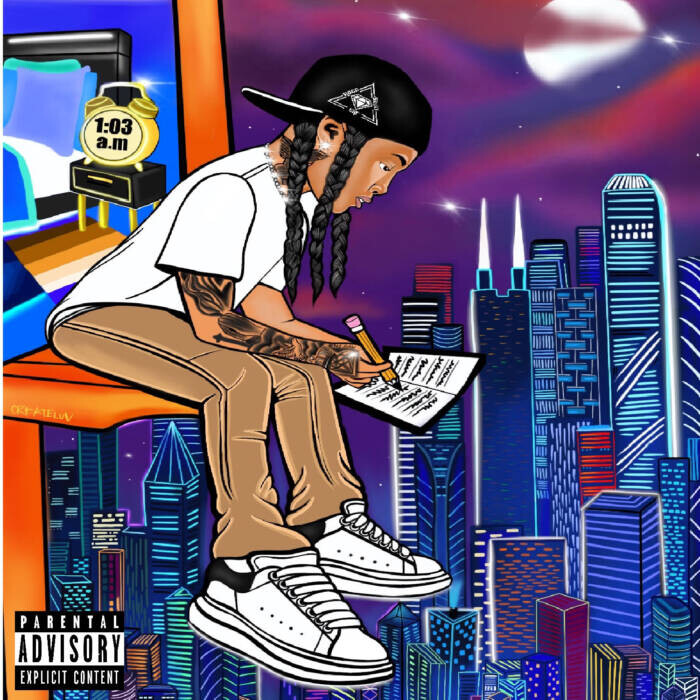 1:03 AM, Azjah's (pronounced Asia) project, was titled after angel numbers that hold meaning for her: she received good news on 10/3 and she finds herself frequently waking up at 1:03am and writing her best music. She's spiritual, but rooted in realism, and it's reflected in her music — carried by her innate sense of melody and raw emotion, Azjah's songs read like diary entries, telling self-contained narratives and radiating toughness and vulnerability in equal measure. 1:03 AM will feature Yung Bleu and up-and-coming singer Mayhrenate, arriving 6/25 via EMPIRE.
Earlier this week Azjah shared the self-directed video for "Soul Ties," a queer Compton love story, check that out here.
Born and raised in Compton, Azjah has developed into one of the leading voices of L.A.'s bustling rap scene. She grew up in a musical family and developed eclectic tastes (she loves everyone from Maxwell to Lil Durk to James Blunt), but didn't start pursuing music seriously until her older brother went to jail. Since then, she's been dedicated to her craft–and her city's tastemakers have been taking notice. She made the most noise with her 2018 single "Time For It," which generated over 1 million streams on Spotify and recruited heavy hitters Shordie Shordie and Kalan.FrFr for the remix, and connected with Ty Dolla $ign for "That's Facts," which has over 2 million streams on Spotify alone. In the past year, she's been keeping up momentum by releasing singles like "True Story" and hopping on "Ain't For Me," a song by Long Beach standout $tupid Young.
© 2021, Seth "Digital Crates" Barmash. All rights reserved.