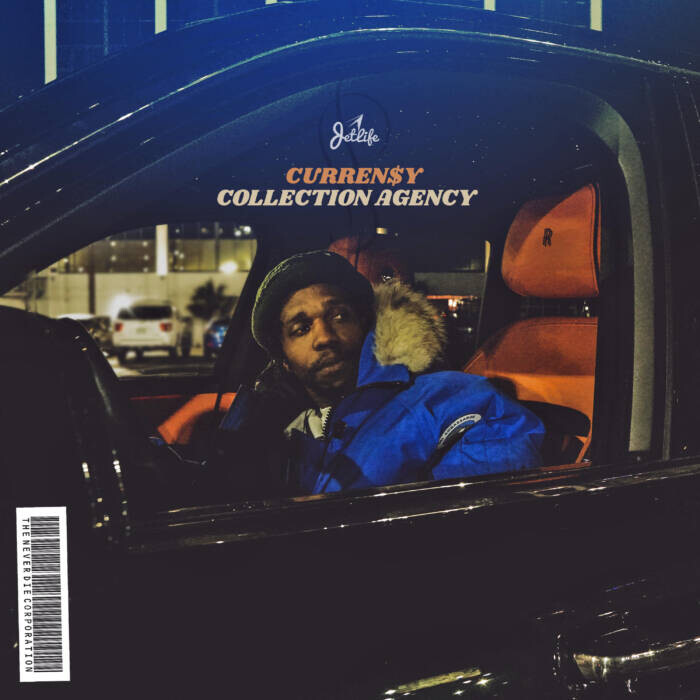 A connoisseur of fine herbs and finer beats, prolific rapper Curren$y is coming through tonight with his first project of a busy 2021, Collection Agency (cover + tracklist below). Packed with the hazy production and intricate rhymes that have been thrilling Curren$y fans for over a decade, Collection Agency finds the New Orleans native in his bag, spinning witticisms about his life of luxury and painting pictures with his detailed description. The album features production from Harry Fraud, Dj.fresh, Trauma Tone, and more, who create a smooth and sumptuous sonic palette that borrows from '80s electrofunk and quiet storm R&B.
The tape boasts recent singles like the luscious "Kush Through The Sunroof" and the wistfully horn-laden "Misty," along with as-yet-unheard highlights like "I Don't Call," in which the rapper brags about getting bands in a pandemic, and the saxophone-drenched late-night heater "Jermaine Dupri." Featuring a guest appearance from Curren$y's kindred spirit Larry June, Collection Agency is available tonight on all platforms via Jet Life Recordings/EMPIRE.
Curren$y – Collection Agency (links live at midnight EST) – https://music.empi.re/collectionagency
Collection Agency Tracklist01. Kush Through The Sunroof (Prod. by Trauma Tone)
02. Smiled On Me (Prod. by DJ.Fresh)
03. The Arrival (Prod. by Harry Fraud)
04. I Don't Call (Prod. by Purps)
05. Jermaine Dupri (Prod. by Harry Fraud)
06. Closing Date (Prod. by Trauma Tone)
07. Shout Out ft. Larry June (Prod. by Trauma Tone)
08. Ferrari Engine (Prod. by Purps)
09. Above The Law (Prod. by Arsonist of the Heat Makers)
10. Misty (Prod. by Black Metaphor)
© 2021, Seth Barmash. All rights reserved.