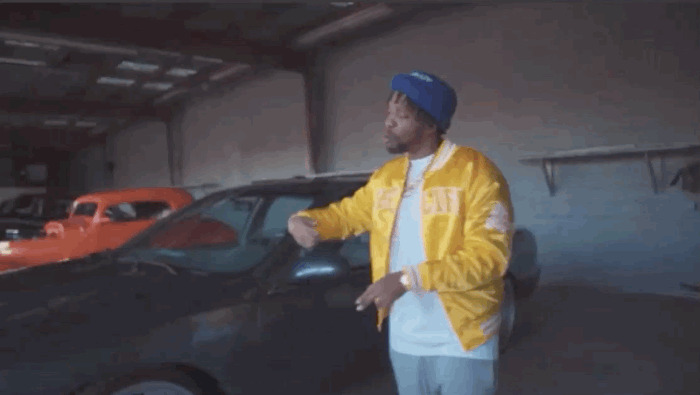 Only a few days removed from the release of his first project of 2021, Collection Agency, veteran MC Curren$y isn't showing any signs of slowing down, continuing to gift fans with new content to roll up to. Today, he's sharing a video for the smooth banger, "Closing Date" prod. by Trauma Tone. Curren$y serves up descriptive and highly-specific flexes about his most prized possessions: "If you could imagine D93s on a E-class wagon/My homies active, I'm not flaggin', I'm just mashin'/Fifty-seven Bel Air with the tail draggin'/Sparks flashin', Spitta talkin' that cash sh*t, yup." In the video, Spitta channels legendary Indycar racer Mario Andretti, gathering his Jet Life associates to show off his classic Indy 500 pace car, along with an old school Chevy Impala, a Rolls Royce Wraith, and several other high-class whips.
Packed with the hazy production and intricate rhymes that have been thrilling Curren$y fans for over a decade, Collection Agency finds the New Orleans native in his bag, spinning witticisms about his life of luxury and painting pictures with his detailed description. The album features production from Harry Fraud, Dj.fresh, Trauma Tone, and more, who create a smooth and sumptuous sonic palette that borrows from '80s electrofunk and quiet storm R&B. The tape boasts recent singles like the luscious "Kush Through The Sunroof" and the wistfully horn-laden "Misty." It was also praised by none other than Jermaine Dupri, who was feeling the love on track five which was named for him. Featuring a guest appearance from Curren$y's kindred spirit Larry June, Collection Agency is available tonight on all platforms via Jet Life Recordings/EMPIRE.
Curren$y – "Closing Date" video – https://www.youtube.com/watch?v=r4dVB74_5dk
Stream Collection Agency – https://music.empi.re/collectionagency
© 2021, Seth Barmash. All rights reserved.