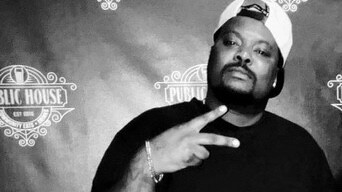 Rapper E-Dash has been recording since he was 15 years old and he's putting out music that will inspire people for decades to come.
From his fast and hard-hitting track D.O.A. to a song E-Dash says he really relates to the most called Bad Santa, the Queens, N.Y.-born Hiphop powerhouse is putting out music to inspire and music that people will be listening to for a long time.
"Anyone who's found a niche, found something in life that they feel like they can be good at, the goal is to master it," E-Dash said. "Don't present it to the world until it's mastered. You might get discouraged or you might get pushed or pulled every way, but until you master it, that's when it's time to work on presenting it to the world because nobody can be you but you and if you master yourself, nobody can compete with that. Nobody can try to compare themselves with you. That's my goal, is to present to the world mastery."
With his track D.O.A., E-Dash said he was inspired by the performances he saw at shows. As he says in the song, "I am hot, triple nine lives I got."
"I would listen to other people's music and it would just not be a comparison," E-Dash said. "When I come around, people are just in awe of what I do and it's just like everything else is just null and void."
E-Dash said he offers Southern Hip-Hop with a dash of Northern flair.
"Atlanta has influenced me in a great way. It made me and of adapt from New York type of feel to having a down-south mixture," he said. "It's like I have the best of both worlds, I still got the up-north qualities but I also bring a down-south feel to it as well which just merges into a beautiful sound."
E-Dash touted some of his music like 2 Much Sauce, a track he recorded with Zay Billi, and his album Year-0001, which he recorded with DJ Killa from Hitman DJs. His most recent work, the EP called Forever, shows off his style and creativity.
"Forever, the title basically says what it is," E-Dash said. "I took a hiatus from music when I was younger but I'll never do that again and I feel like this is my mix that I mastered and it's my time to present it to the world. I think I will be doing this forever and that's where the name comes in, it's going to be forever played like The Isley Brothers or the OJs, people will be listening to this 50 or 60 years from now."
© 2021, Oktane. All rights reserved.