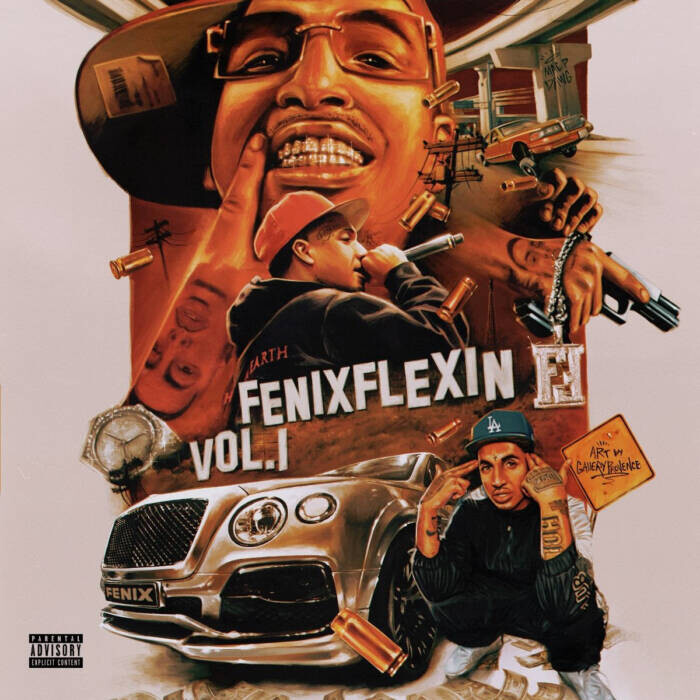 Continuing to make his mark on the sound and style of West Coast rap music, former Shoreline Mafia member, Fenix Flexin has just released his debut mixtape, Fenix Flexin Vol. 1. The new project includes Fenix's recently released singles "10 Toes," the RonRon and Menace produced "For Me," and "NDS" as well as twelve new tracks with features from Drakeo The Ruler, Rob Vicious, Bravo The Bagchaser, D-Block Europe, Peso Peso, and SaysoTheMac. The new mixtape arrives with a video for "What's the Move," an AfterPangea directed visual featuring Fenix and his crew cleaning up in their DTLA penthouse before a night out.
Fenix Flexin Vol. 1 sees the L.A. born and raised rapper leaning into his newfound autonomy. The project demonstrates Fenix's ability to thrive as a solo artist while staying true to himself and his supporters. For Fenix, music has always been about a sense of community. It's what motivates and inspires him. To further his involvement in the culture that's shaped him, Fenix has recently launched a new lifestyle and apparel company called Burnt Co and sponsored a team of pro skaters from in and around Los Angeles.
Having built Shoreline Mafia into a critically acclaimed arena headlining group with three platinum singles ("Bands," "Nun Major," and "Musty"), two gold singles ("Whuss The Deal" and "Bottle Service"), and billions of streams, Fenix Flexin is now out to show his fans that the best is yet to come. Afterthe overwhelmingly positive response from fans to his solo songs on 2020's Mafia Bidness, including "Hoe Sh*t" and "How We Do It" (feat Wiz Khalifa), as well as his massive hit, "Fell In Love" off 2019's Party Pack Vol. 2, Fenix Flexin is ready to manifest the solo career he's always envisioned. "The group had a bunch of respect, a huge following, and a whole lot of people behind us," affirms Fenix. "Now, I'm claiming all of those things for myself as an individual, and I'm off to a good start." Carrying his seven-figure streaming audience and viewership with him, Fenix Flexin has shared his debut mixtape, Fenix Flexin Vol. 1 and plans to set out on tour this September – Tickets on sale now.
© 2021, Seth Barmash. All rights reserved.