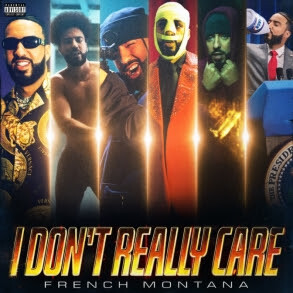 Ready to take over the fall, GRAMMY® Award-nominated multi-platinum rapper, producer, and philanthropist French Montana announces his highly anticipated fourth full length studio album, They Got Amnesia. It arrives November 12th via Epic Records/Bad Boy Entertainment. Pre-order the album HERE.
In addition, today French Montana unleashes a bar-raising new single entitled "I Don't Really Care." Get it HERE and watch the official music video HERE.
 Addressing the critics head-on, "I Don't Really Care" pops off as a classic Coke Boys cut pinned to simmering 808s and slick cymbals. Produced by Boi-1da and Lil CC, French leans into this instantly unshakable groove with braggadocio lines such as "I'm biggest bad boy since Wallace" and "I'm the guy with the sauce, boy" before he announces, with no shortage of swagger and spirit, "I DON'T REALLY CARE." It's a mission statement of sorts that kicks off the runway to They Got Amnesia with a bang.
Speaking of a bang: he co-directed the accompanying visual with Edgar Esteves, and it's as wild as any video he's done so far. Full of clever easter eggs, the clip makes references to headline-making moments by names like Childish Gambino, The Weeknd, Eminem's "Lose Yourself," Cardi B, politicians, while addressing previous relationships and his own public persona, while he's joined by Bad Boy comrade Diddy and causes all kinds of pop culture chaos. Opening atop the Empire State Building in a moment of suspense, the instantly iconic video serves as a reminder of how magnetic French Montana is.
They Got Amnesia serves as a reminder of French's greatness once again. He locked and loaded the album with one banger after another punctuated by quotable bars and hard-hitting hooks. The album stands as his tightest and strongest project to-date, as he fully embraces his roots, showcasing a verbal dexterity and unpredictable flows that established him as a star in the first place. It also boasts his summer 2021 anthem "FWMGAB," which has clocked nearly 30 million streams thus far. Watch the "FWMGAB" video HERE, which was also directed by French Montana and Edgar Esteves. Watch French dive into the song's spit-fire bars on Genius' Verified series HERE.
Expanding his influence yet again, he recently announced his new collaboration with legendary perfumer Kilian Hennessy for a limited edition spin on Angels' Share from KILIAN Paris. French Montana worked with Kilian on all creative elements, giving the product a truly unique spin. The limited-edition Angels' Share by Kilian – French Montana bottle has on its cap a gold-colored disk, reminiscent of an LP record, with engraved chains, nodding to Montana's necklaces. The fragrance is currently available for purchase at sephora.com and bykilian.com.
Get ready for more from French Montana very soon!
About French Montana
Some artists blur genres, but French Montana blurs borders. His inimitable fusion of classic East Coast rhymes, wavy pop swagger, and international ambition elevated him to the forefront of the game on a global scale. 2017 saw him ascend to superstar status with the blockbuster smash ""Unforgettable"  feat. Swae Lee], which cemented him in the "Billion Club" for streaming and earned a nine-times platinum certification from the RIAA. Meanwhile, his sophomore effort, JUNGLE RULES, went and dominated the charts and his 2019 album  MONTANA was certified gold immediately upon release. He closed 2020 with the release of the long-anticipated CB5 (Coke Boys 5) mixtape, continuing a legacy he started over a decade ago. Now, he takes it to the next level with his latest effort They Got Amnesia.
At the same time, he has left an indelible mark on communities around the globe. In addition to becoming the very first rap ambassador of Global Citizen, he staunchly supported humanitarian efforts, spanning DACA, the viral Mama Hope #UNFORGETTABLE Dance Challenge, which raised over $500,000-plus, and his Pan-African health and education movement into Morocco with Care Morocco. 2018 also saw him become a U.S. Citizen after emigrating to the South Bronx from Morocco at just 13-years-old.
If anyone can not only change music, but the world at large, it's French Montana.
Follow French Montana:
http://www.frenchmontanamusic.com
http://twitter.com/frenchmontana
http://www.facebook.com/FrenchMontanaOfficial/
http://www.instagram.com/frenchmontana/
http://www.youtube.com/user/FrenchMontanaVEVO
© 2021, Seth Barmash. All rights reserved.