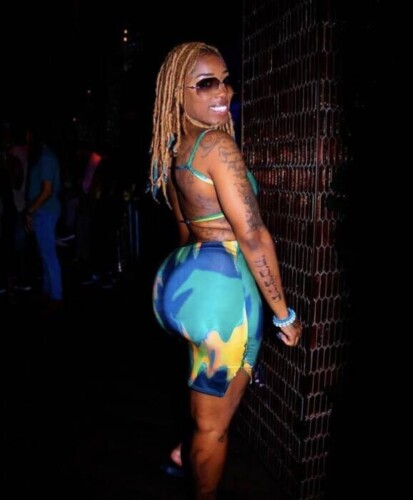 • What first got you into music?
My family. My aunt always had the Motown jams playing and my big sister was a heavy influence on my love for music as well because she was always walking around singing as a kid I always thought she had the most beautiful voice ever.. her and my cousins also would battle rap. 
• Who inspired you to make music?
My big sister crystal. Her creative ways in music rubbed off on me. She made me want to write songs.
• How would you describe the music that you typically create?
A vibe. I consider myself a modern day hippie, so Any music I create you gotta be able to feel it. I have the type of voice that can just brighten your day, So I tend to make feel good music. I also like to Touch on subjects that are relatable because I been through a lot in this life but I'm ALWAYS positive and my music definitely reflects. So with that, I feel like I can help others get through whatever trials and tribulations they face.
• What is your creative process like?
Often times I like to work early in the morning. I feel like your thoughts be fresh off the wake up. I used to always work by myself. Record myself and mix my own music BUT as I further my career I'm learning you really can't make a HIT alone, you need other creatives in the room with you to bounce ideas off of & get your creative juices flowing, it really is a group project, from the producer to the artist, to the engineer everybody gotta rock and vibe together.
• Who would you most like to collaborate with?
Kodie Shane is so dope to me and highly underrated I would LOVE to collab with her, Cochise is a dope artist who's been receiving his flowers lately l feel like our voices on a track together would be INSANE and Don Toliver can't forget my GUY anything we create will be a certified VIBE.
• If you could go open a show for any artist who would it be?
Trippie Redd is one of my favorite artist. So it only makes sense.
• What is one message you would give to your fans?
They can steal the creation but never the creativity!
• How do you feel the Internet has impacted the music business?
It impacted the music business so much to the point you can't just have talent anymore, actually you don't even have to have talent these days!! Having a "image" is carrying a lot of people much further than having talent.

talent. 
• What is your favourite song to perform?
I don't like to perform but if I have to ima go with TINA TAUGHT ME.
• Which famous musicians do you admire?
I admire lil boosie for his strength and resilience. I grew up off boosie.. only the real can relate! "You don't kno my struggle so you can't feel my hustle!"
• What is the best advice you've been given?
Business is business.. gotta learn the game and you can't take every move being made personal. Just take notes and execute. 
• If you could change anything about the industry, what would it be?
The smoke and mirror mess. It's so much fake stuff going on and false narratives in the industry. If I could change anything I would weed out all the SNAKES… Keep the real forget the rest.
• What's next for you?
GREATNESS and GROWTH. I'm currently working on my first album, I also intend on dropping more DJ collaborative projects with different artists in the near future. 
© 2021, alanna. All rights reserved.