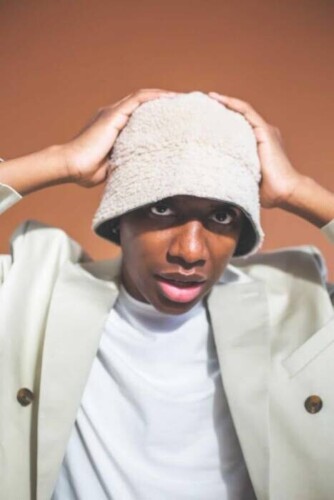 What first got you into music?
Well growing up I wasn't allowed to listen to music being that I was raised Muslim, my mother wanted me to be anything else but musician and was worried it would influence me and I think the lack of access to it only served to make me appreciate it more. I had to go out to a friends house or hear a song on the radio to listen and something about that makes you cherish the 2-3 minute songs even more.
Who inspired you to make music?
I think the main thing that inspired me was being able to express myself. Some of my favorite artist ever were able to just get on a beat and let loose. They would express they're deepest fears or thoughts or ideas and they're fans were people who accepted them for it and I think on some level I wanted to build something like that.
How would you describe the music that you typically create?
I think it's hard to describe because my music has so many different genres I never want to be defined by one sound or put into a box which is why my current project is so different from my last. Every time I release something new I want my fans to question it like "What is he going to do next" but I'd say my latest project "The Curious Die Young"  is a mix of rap, hip hop and pop something along the lines of "Because the internet" or "flower boy" by Tyler the creator.
What is your creative process like?
I would say my creative process is something along the lines of surrounding myself with art or imagery that will help me capture whatever I'm going to write about. If I'm writing about heartbreak then I dig deep and try to find something that can connect me to that feeling so that I'm able to write something relatable.
Who would you most like to collaborate with?
My dream collaboration Anderson paak I've been a huge fan of his and he is such a huge inspiration I just think him and I would  create something incredible together.
If you could go open a show for any artist who would it be?  
I think the best person to open up for would be Tyler the creator I think our vibes are kind of similar and I've gotten a lot of comparisons to him. 
What is one message you would give to your fans?
I would tell my fans to cherish the moment. Time is ever fleeting and wherever you are in life whether good or bad it won't last forever and  the last thing you want to be is the person who regrets not living life to the fullest when they had the chance.
How do you feel the Internet has impacted the music business?
It's so much easier to get your music into people's hands and while it can make things over crowded and over saturated the good music really does shine through.
What is your favourite song to perform?
Solar drive, the hook is infectious and every time I get on stage I see how it resonates with people and how quickly it can turn someone who doesn't know me at all into an instant fan 
Which famous musicians do you admire? 
Childish Gambino is someone I admire tremendously. I love how he has transcended HipHop and has been able to use his platforms to write and produce movies and tv. I would love to have even half the career he does.
What is the best advice you've been given?
To trust myself, it might sound crazy but I never go into writing a song thinking "This ones going to be the hit" I'm always worried that the last one I wrote will be just that. I think it's hard to feel reassured about being able to do it again as an artist because inspiration isn't something you can control it comes to you naturally and abruptly in all different shapes and forms.
If you could change anything about the industry, what would it be?
The one thing I would change about the industry is the selfishness and while sometimes being selfish is needed, I feel as tho in this industry no one wants to lend a helping hand to one another. We're all on this ride together yet we treat it like only one of us can make it and that's just not true.
Well I have two music videos dropping in the next 2 months for my project an animated visualizer for my song "Knock on Wood" and my first official video dropping soon and besides that a ton of shows in between then and now working the circuit and trying to build a bigger following in New York City.
© 2021, alanna. All rights reserved.