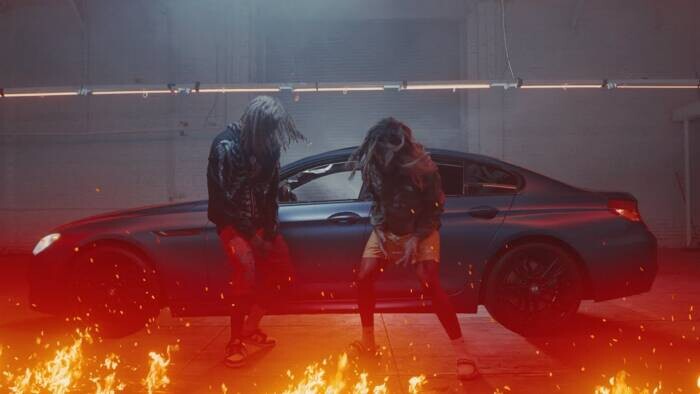 Charlotte's Jaah SLT haunts the nightmares of the opposition like Freddy Krueger, and like Freddy, he's able to compose himself and deliver an iconic, comedic one-liner right before he gets you. His music embodies that unpredictable intensity that makes it feel like he could snap at any second. That energy is omnipresent on Jaah's latest video single, "I Love It," featuring a high-octane assist from Ohio rapper Jasiah, whose unchained hostility makes him a perfect counterpart—the Jason to Jaah's Freddy.
The video finds Jaah and Jasiah marauding around a red-lit warehouse, toting flamethrowers and raging out the window of a BMW as the visuals grow more and more distorted to match the track's wicked, twisted atmosphere. Bouncing from shot to shot with frantic frequency, the video presents a sense of urgency which complements and highlights the eccentricity of Jaah's flows and intonation. Like a ticking time bomb that could blow at any minute, Jaah SLT brings life to the track, as he transitions from the rabid repetition of the line, "I love it, I'm with it," with increasing ferocity on the hook to kicking off the following verse, rapping, "I'm great, I'm straight, I'm doing good," with the calm composure of someone who just woke up from a nap, only seconds later.
"I Love It" arrives in the wake of recent singles, "For The Week," "Rent Free," "Toxic" and "Feeling Hot," all of which appear on his upcoming project, One Year Later, due for a December 1st release via Alamo Records. Jaah's new project will follow in the wake of "In My Bag (Remix)," featuring Dallas diva Erica Banks. The original "In My Bag" gained particular traction in Texas, the home of chopped-and-screwed music, thanks to a TikTok dance trend set to a slowed version of the song which inspired over 157k video creations. Before releasing the Erica Banks-featuring remix, Jaah shared a Houston-style remix of the song produced by club god BeatKing. With over 1.5 million streams on Spotify, "In My Bag" was the second TikTok hit for the North Carolina native, following 2019's "Tuff" which hit 27 million streams after generating over 250k video creations on the video platform.
With One Year Later coming later this week, Jaah SLT continues to make waves with his fiery, unapologetic personality while taking his career to the next level in the rap game. Don't sleep, or Jaah might go Freddy Krueger on your ass.
Watch "I Love It": https://www.youtube.com/watch?v=z2Tf1BTrG5w
© 2021, Seth "Digital Crates" Barmash. All rights reserved.