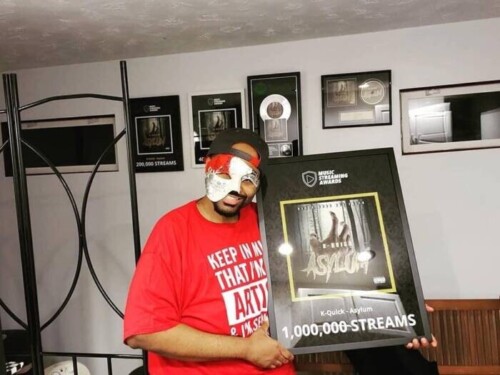 By: Julz Mancini
The one and only K-Quick has reached over one million streams on his most recent album "Asylum". He is a versatile artist who truly embodies the culture with every project he unveils. He utilizes music and pure lyricism to touch on many trials and tribulations people face. This is the reason why so many of his listeners are loyal to him. This Maryland native has certainly made a name for himself and reached a wide range of people that have added to his audience. 
Within "Asylum" there are 17 songs in which display K-Quick's talent and keen ear for sound. The most popular track thus far, according to Spotify, is "Mosh Pit (Remix)" with over 250 thousand streams to date. The production adds a unique dynamic to the song. The hook is catchy and, of course, K-Quick displays witty word play and phenomenal delivery. The visuals for this song are available on YouTube. The music video has reached over 140 thousand views. 
It is clear that K-Quick is on a very positive path with his music career. He has created, what he considers an alliance, with other artists who share the same goals as him. This alliance is called Beats Bars and Faith (B.B.F.). In addition, he works with a non-profit organization called the Steamers Organization which helps spread knowledge throughout the youth. The organization published a book titled, "De-Bug Your Attitude" where K-Quick can be heard on the soundtrack as well as the voice of the book's main character, Andy the Ant. It appears that K-Quick does not intend to stop striving for success anytime soon. With his music sending shockwaves through the music scene, it's only a matter of time before he reaches the top! Be sure to follow him on social media, stream his music, subscribe to his YouTube, and be ready for more music!
FOLLOW K-QUICK ON INSTAGRAM!–CLICK HERE!
© 2021, @BWyche. All rights reserved.