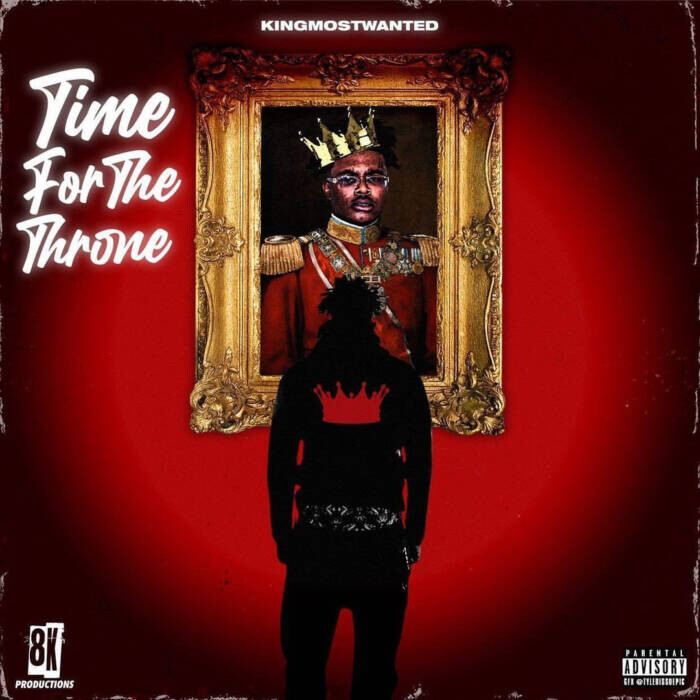 When discussing promising young artists, factors like hometown hero status or social media virality are viewed as strong potential indicators for success in the future. Most up-and-comers can stake their claim as a standout with just one of these elements, but in the rare case of KINGMOSTWANTED who possesses both and more, those indicators are more like warnings. Fittingly, those warnings are embodied by his latest album as best evidenced in its title: Time For The Throne. With his snapping flows and boundless braggadocio, the 8PETOWN rapper has viewed his own success as a given while he's focused his attention on building a dynasty in the Inland Empire and beyond.
Born out of KING's unique creative process–he thinks of his rhymes, organizes a flow, and then works with the producer to craft a beat around his words–Time For The Throne bursts with the confidence of a 19-year-old kid convinced his music will take over the world. Featuring recent singles such as the romantic "Couple Questions" and "KUNGFU WARRIOR" ft. AzChike & FrostyDaSnowmann, Time For The Throne continues to pave the way for SoCal's Inland Empire sound; largely influenced by the current L.A scene, but delivered with a spartan demeanor and danceability that makes KING's growing TikTok fanbase seem nothing short of a natural progression.
The leader of a burgeoning rap scene in the so-called Inland Empire–an area east of Los Angeles and the San Fernando Valley that is more populous than nearly every American city–KINGMOSTWANTED has been bubbling in his city since he released his single "No Case" in 2018, when he was just 16. Since then, his star has only continued to rise, taking a leap when he released "In My City," a hometown banger featuring his 8PETOWN associate MCM Raymond, which generated over 15 million combined streams and over 1 million video creations on TikTok. Since the release of "In My City," he's been a favorite on TikTok, with over 173k followers who devour his every release, including Charli D'Amelio-approved "Different Varieties," and he's capitalized on his viral success with exciting projects like 2020's FRESHMAN YEAR, which featured guest spots from AzChike and Quin NFN. With Time For The Throne, KINGMOSTWANTED looks to deliver on the ambitions of his artist name and elevate to elite status on the west coast scene.
In an exclusive interview with HipHopSince1987.com Kingmostwanted talks to Digital Crates about coming up from freestyling to making songs. He describes finding his own sound while staying true to his west coast roots. He represents the Inland Empire, specifically San Bernadino. The raps and beats that he picks have a perfect flow that is helping him to grow his fanbase. He has found a good balance of his time between being in the studio, living life, and conquering social media. He talks about picking different types of beats and standing out by having versatile subject matter.
He is young but has learned a lot about the game. Everything from song clearances to building a team and getting placements on major projects. He has a growing catalog filled with features and collabs with a good balance of original records, sampled beats, and freestyles. His first official album "Time For The Throne" just dropped and is filled with solid raps and production.
Buy/Stream Time For The Throne: https://lnk.to/TimeForTheThrone
© 2021, Seth "Digital Crates" Barmash. All rights reserved.