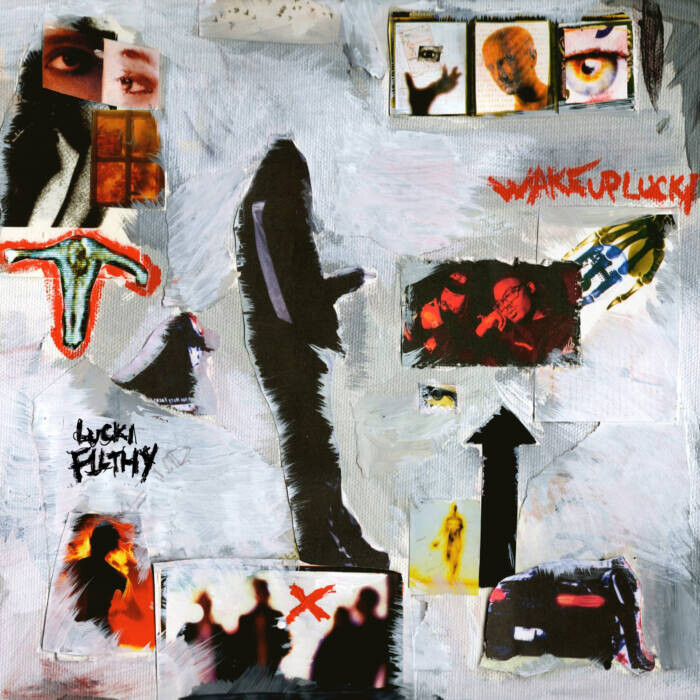 LUCKI entices with brutally honest rhymes, organized into mantra-like hooks. Known for his immaculate ear for production, the Chicago native connects with F1LTHY for WAKE UP LUCKI, his most energetic set of songs to date. A member of the WORKING ON DYING collective, known for producing hits for Lil Uzi Vert, Playboi Carti, Juice WRLD, and more, F1LTHY brings a blown-out, synth-heavy, and futuristic aesthetic, mixing booming percussion with carnival-esque synths and cavernous trance soundscapes. Deliberately sliding into the negative space as melodies dance in the background, LUCKI grounds F1LTHY's flights of fancy, twisting his flows into cadences that toe tag the hyperactive percussion.
Spanning 12 tracks, WAKE UP LUCKI continues the 25-year-old artist's penchant for existential and starkly honest lyricism, with an added sense of urgency from F1LTHY's video game-worthy beats. The new tape is home to the recent single, "NEPTUNE V.S INDUSTRY," a bite-sized banger that examines LUCKI's role as a "real geek boy in the industry," and generated over 1.3 million views on its LONEWOLF-directed video. New highlights include "NEEDED," which combines an instrumental that wouldn't sound out of place on Dance Dance Revolution with LUCKI's triplet-flow flexes, "U.G.K.," which explores the rapper's position as a underground icon, and "LOVE IS WAR," a heartbreaking tale of relationship failure and relapse.
WAKE UP LUCKI is the culmination of an action-packed 2021, packed with music and live performances. In the Spring, LUCKI released Almost Woke, a double-single meant to prepare fans for his WAKE UP LUCKI artistic direction, home to "LifestyleBrazy" and "No Joke," with the former racking up over 1 million streams on Spotify. Prior to the two pack, LUCKI dropped the Lyrical Lemonade-approved banger, "Greed" featuring Lil Yachty. Since these three tracks were gifted to the public, LUCKI has kept himself busy, playing his soulful catalogue at major music festivals across the U.S. including Summer Smash in Chicago and Rolling Loud in New York. The artist took a step forward in his career by embarking on two headlining tours alone in 2021, the "Almost There Tour" and the "Wake Up Lucki Tour," the latter ending with a hometown show in Chicago on November 27. LUCKI will conclude his live shows with a performance at Rolling Loud California next weekend.
With WAKE UP LUCKI, LUCKI releases one of the most complete artistic statements of his career. Stay tuned for much more in 2022 from the young artist, and plenty more music videos before the year ends.
Buy/Stream WAKE UP LUCKI: https://music.empi.re/wakeuplucki
© 2021, Seth Barmash. All rights reserved.