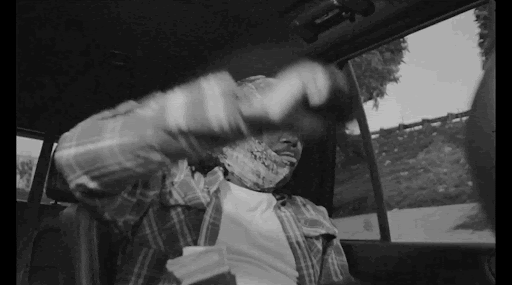 From his authentic lyrics to his enticing production, LUCKI continues to succeed at drawing listeners in with music that is felt in their souls. Today, LUCKI shares "NEPTUNE V.S INDUSTRY," his new video. The track is characterized by LUCKI's typical nonchalant flow and producer F1LTHY's bass-heavy beats, as the Chicago rapper contemplates his true feelings about the rap industry he's a part of. In the Lonewolf-directed video, concert venues full of people can be seen and heard chanting LUCKI's name, as he takes a break from flashing his cash to perform for his fans.
With over 1.1 million views since its release on Friday, "NEPTUNE V.S INDUSTRY" is the first video from LUCKI's upcoming project, WAKEUPLUCKI!. While LUCKI takes the lead when it comes to vocals, the album is produced entirely by F1LTHY from the Philly-based producer collective, WORKING ON DYING, known for producing hits from Playboi Carti's  Whole Lotta Red, as well as singles for Juice Wrld, Lil Uzi Vert, Lil Yachty, and more. Soon to be available for pre-order/pre-save, WAKEUPLUCKI! arrives in the coming weeks via EMPIRE.
Garnering critical praise from HotNewHipHop, Lucki's Spring 2021 double-single Almost Woke featured "LifestyleBrazy" and "No Joke," with the former racking up over 1 million streams on Spotify. Prior to the two pack, LUCKI dropped the Lyrical Lemonade-approved banger, "Greed" featuring Lil Yachty. Since these three tracks were gifted to the public, LUCKI has kept himself busy, playing his soulful catalogue at major music festivals across the U.S. including Summer Smash in Chicago and Rolling Loud in New York. The artist took a step forward in his career by embarking on two headlining tours alone in 2021, the "Almost There Tour" and the "Wake Up Lucki Tour," the latter finishing up with a hometown show in Chicago on November 27. Shortly after the release of WAKEUPLUCKI!, LUCKI will conclude his live shows with a performance at Rolling Loud California.
With WAKEUPLUCKI!, LUCKI shows that he's ready to compete with the big dogs by delivering his most complete artistic statement yet.
Watch "NEPTUNE V.S INDUSTRY": https://youtu.be/3JMsQQeqoBs
Buy/stream "NEPTUNE V.S INDUSTRY": https://music.empi.re/neptunelucki
© 2021, Seth Barmash. All rights reserved.