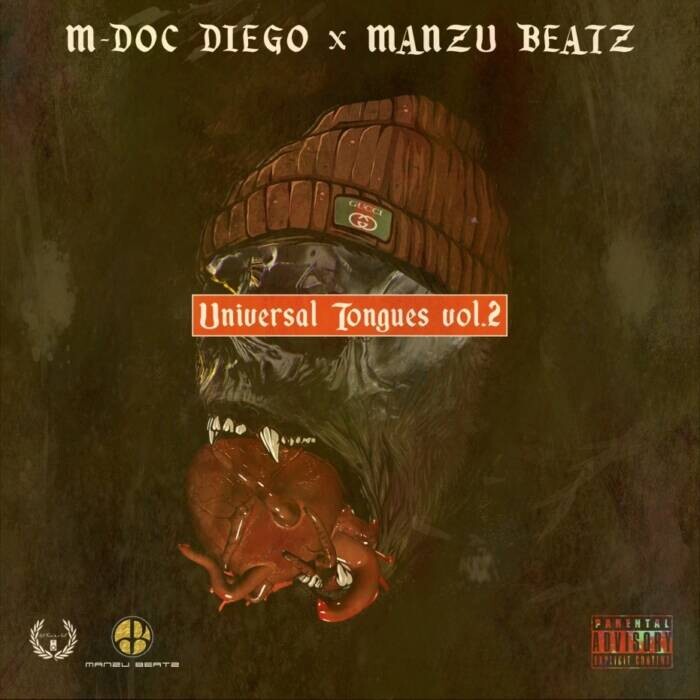 Rochester, NY emcee M Doc Diego and Italian production crew ManZu BeatZ have dropped a new video/single this morning. "Tango –N- Cash" (Ft. Crotona P) is a re-introduction to the stark and grimy boom-bap formula that the duo crafted on last year's Universal Tongues project. makes it such a potent pairing. With this single is the announcement of the release of Universal Tongues Vol 2 for April 23rd.
Speaking on it, Diego said "Universal Tongues is really what I would consider the true definition of hip-hop. That is people who come from different cultures and separated by language or geographical barriers coming together and relating through this music. ManZu and I connected at the start of the pandemic and within the past year have built a partnership on respect and creativity that has been received well from people around the globe."
Shot by Cartel Films, the visuals for "Tango –N- Cash" show Diego and P spitting in what looks like the graph-covered train-yards of the South Bronx from the dawn of hip-hop. "It's actually these abandoned water towers close to the reservoir over here. I've been wanting to film there for a minute but you literally have to hike over some terrain that makes it difficult to get to. Crotona and I have been friends for a few years, he's been putting it down for the city and he's been very supportive of my work as well."
Watch official video for "Tango –N- Cash" here: https://youtu.be/Ofl28T7HYjQ
Other appearances on Vol 2 include Brockton, MA G Fam Black, (both Diego and Fam also worked with French Producer Master Conga recently) on "We Just Different." Also appearing on opening track "The Reveal Pt 2" is Greg Nyce adding cuts. Nyce's connection being extremely significant as being M Doc Diego's father as well as a legendary figure in his own right in Rochester's hip-hop scene.
ManZu Beatz has also been making moves of late most recently by pairing with DJ Flipcyide to release The Lost Gems EP, which features Kool G Rap, Prodgial Sunn, 12'Clock, Bronze Nazareth, Solomon Childs and JoJo Pellegrino among others. In addition ManZu has released collaborative projects with emcees Jamal Gasol (Jamal Gasol Is The Future) and YNX716 (Golden Bars) all available via Bandcamp and DSP's now.
Instagram: https://www.instagram.com/manzubeatz
https://www.instagram.com/daimajin_dbtz_of_manzubeatz/
https://www.instagram.com/ynx716
https://www.instagram.com/familiar_doc/
https://distrokid.com/hyperfollow/mdocdiegoandmanzubeatz/universal-tongues-2
© 2021, Seth Barmash. All rights reserved.