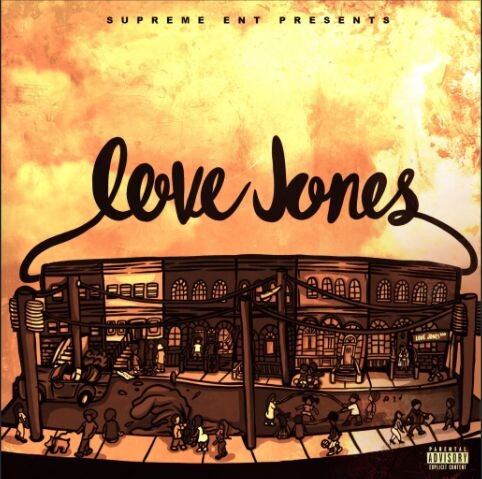 Staten Island native MC Supreme leads with love on his debut EP Love Jones, available on all digital streaming platforms. Based on the importance of relationships with family and loved ones, the Love Jones EP takes an honest approach, addressing relationships with his mother, brother, and even his complicated relationship with his father, Ghostface Killah (weaved throughout the project are recordings of real phone conversations between Supreme and his dad).
"The 'Love Jones' EP tells the story of just how I bounced back from my lowest point in life. I lost people. I had to grieve, let go, and accept the things that aren't fair in life… Around the end of my sophomore year at Morgan State University, I wanted to drop out of school. I felt regretful, like if I had never gone to college I would have already been progressing in my music career. The only reason I went to college was to be a role model to my younger sister, and to make my mother proud. I was the only one in my immediate family to go to college. When Nipsey Hussle was murdered, I gained a new perspective. It's like it took for his passing to get me back on track. That's when I started writing 'Love Jones'. I started merging music with school work, and managed to excel in both… Travel with me through my love for music, family, friends and life's lessons that helped me get through." – Supreme
Stream/purchase the 'Love Jones' EP here.
MORE ABOUT SUPREME:
There's a level of grandeur that comes with the name Supreme Intelligence Great God Allah Coles. Add the fact that its origin is rooted in a legendary bloodline, the bar is set pretty high. But with his own voice, perspective, and unique skill set, Supreme is determined to live up to his name while carving his own lane, separate from his Wu-Tang Clan roots. The Staten Island Native was immersed in Hip-Hop culture from birth, taking a liking at an early age to DJ'ing, graffiti, breakdancing, MC'ing, beatboxing, and the lifestyle that surrounded him. But it wasn't until 2012 that Supreme began to take rap seriously to pursue a career in music. Imbued with a gritty, fervid New York sound from the late '90s/early 2000's, Supreme's lyrics are honest and based on the ebb and flow of real life experiences.
After graduating from Morgan State University in December 2019, Supreme kicked off 2020 with his single "Oh No". His 'For The Love Freestyles' began shortly after as a series on Instagram, where Supreme would rap over Hip-Hop beats requested by his followers. The hashtag caught on and eventually evolved into the For The Love Freestyles mixtape, a collection of Supreme's razor sharp bars over nine classic Hip-Hop instrumentals released in the fourth quarter of 2020. Energized and inspired by love as a new father, Supreme is now poised to make a name for himself with his debut EP 'Love Jones', which was written during his time in college.
More Info:
Facebook | Twitter | Instagram
https://supremecoles.bandcamp.com/album/love-jones
https://music.apple.com/us/album/the-love-jones-ep/1573581468
© 2021, Seth Barmash. All rights reserved.