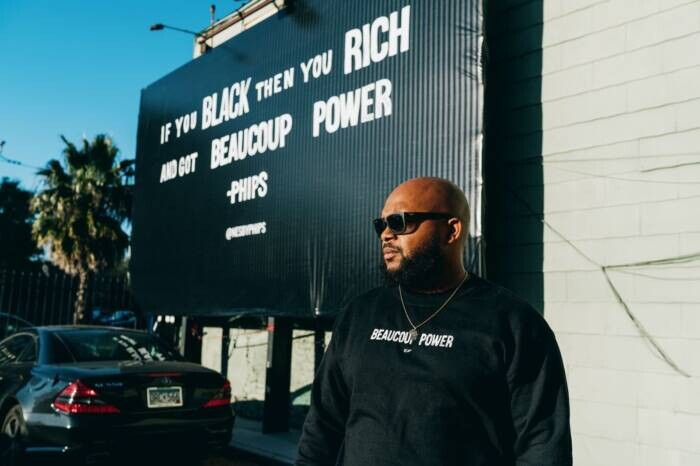 For the last year, New Orleans musician and visual artist Nesby Phips — also an acclaimed public speaker and advocate with a lauded career in hip-hop — has grappled with a question: how can he communicate with people outside of social media? The answer on which he landed was simple yet profound: messaging.
The grand-nephew of music royalty Mahalia Jackson, Nesby Phips himself a boundary-breaking creator who is spearheading "Beaucoup Power," a campaign merging messaging with public space in an effort to support the esteem and self-awareness of the peoples of the African diaspora. The movement was born of lyrics from an unreleased song of his, in which he raps "If you Black, then you rich and got beaucoup power." The term "beaucoup" is a derivative of the French word meaning "many" or "a lot." In New Orleans, it's a colloquialism used by the city's English speakers and can be heard spoken in myriad contexts, though imbued with the same meaning. Its presence in contemporary AAVE is a callback to the region's French colonial era, but is also a direct bridge to the global Black francophone communities. "There was an instance where I felt isolated by the word." says Phips. "But then I realized it's a global thing. When I started, I wanted to affect the world that I could reach, which is New Orleans. But my intention is to get this message to Black, French-speaking people around the world."
For Phips, what began as song lyrics became the keystone for something much larger: a movement to use public space to speak directly to the confidence of Black people, not just in New Orleans but worldwide. Launched in late 2020, the project began with a sold-out run of 50 limited edition hand-painted canvases. Then came the billboard. Through a partnership with Thorton Public Art, Phips erected a Beaucoup Power billboard in the historic French Quarter, at the corner of N. Rampart and Barracks Streets.
Phips says he wants to punctuate public space with artwork meant to spark a conversation beyond the confines of our virtual worlds. "I want my work to speak for itself. I don't want you to care about me as an artist. I want you to care about the art that I'm making. I want Beaucoup Power to be known more than Nesby."
More billboards are on the way, as is an effort to get the Beacoup Power messaging into local schools, along with another Phips-ism, "feeling played is a choice." Phips is currently working on a mural featuring those lyrics, which aims in part to encourage young people to adopt principles of accountability in conflict resolution.
Coming next is the release of the "Beaucoup Power" song, and Phips is actively seeking speaking engagements for Black History Month. For the month of February, the Beaucoup Power online store will feature a 20% discount and Phips will re-release the Beaucoup Power canvases in black and gold. After February, the canvases will no longer be available.
For more information, visit  www.beaucouppower.com
© 2021, Seth Barmash. All rights reserved.