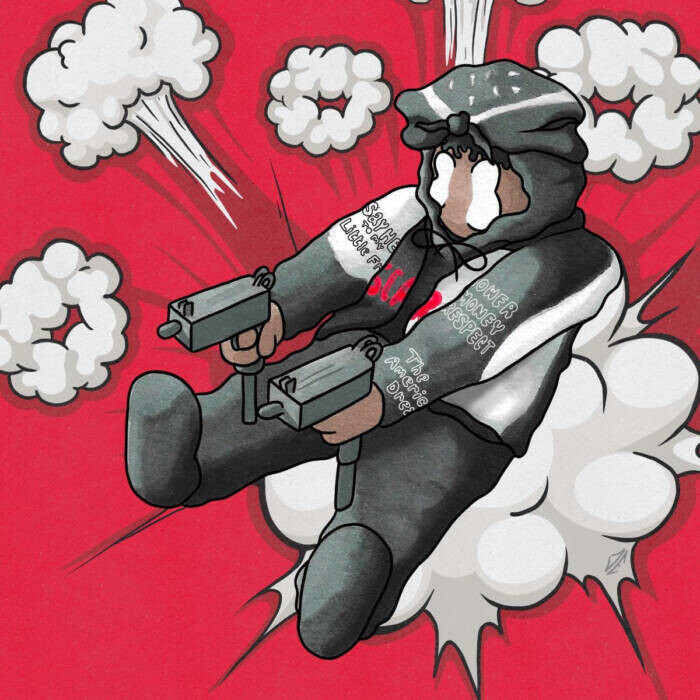 Always an introvert at heart, the hoodie-clad $NOT is becoming more comfortable in the center of attention. On his new single "RED," the Florida native takes time to flex on his accomplishments in his trademark low-key style. Over a wavy instrumental from ToryOnTheBeat, $NOT boasts about his extensive vehicle collection (he has an all-red coupe and another one in black) and party-positive habits, employing infectious melodies in an in-the-pocket cadence. Though the beat is wistful, $NOT is confident, backing up his luxury-living bonafides with the promise to lay down the law if he has to: "Get the f*ck up out my way, b*tch, I got a strap/Body on the ground, we gon' leave you where you lay." Along with the new single, $NOT teamed up with Rose In Good Faith for an exclusive merch collab that is set to be revealed later this afternoon and go on sale this Saturday at 12pm PST.
"RED" arrives as $NOT climbs charts with "Tell 'Em," his collaboration with fellow riser Cochise. On "Tell 'Em," $NOT provides a calm counterpoint to Cochise's hyperactive delivery, bodying the beat with his deadpan warnings of impending doom. With a video directed by $NOT's frequent collaborator Cole Bennett (8.5 million views in one month), "Tell 'Em" has become a phenomenon, generating over 11 million globalstreams per week and becoming $NOT's first-ever hit on the Billboard Hot 100, where it currently sits at #95. "Tell 'Em" arrived in the wake of "Whipski," a breezy collaboration with Lil Skies, complete with another Cole Bennett-directed video, following the loose storyline established in "Revenge" (11.3 million views) and "Mean" ft. Flo Milli (9.7 million views). Always ahead of the curve, $NOT dropped an NFT, exclusively on Zora, to coincide with the release of "Whipski."
Last year, $NOT released Beautiful Havoc, his latest project. Taking his songwriting to a new level, Beautiful Havoc interrogates the 22-year-old rapper's pain, digging into the betrayal and hardships that shape his prickly and misanthropic persona. With production from the likes of Powers Pleasant, Eem Triplin, Woodpecker, and more, Beautiful Havoc offers a bright and diverse sonic palette, allowing $NOT to showcase his elite melodic instincts and provide a contrast to his dark, self-hating lyrics. Beautiful Havoc hosts several well-received singles, including collabs with iann dior and Denzel Curry, and is home to "Mean" (35 million Spotify streams), the Flo Milli-featuring slapper that inspired a viral trend on TikTok (over 700k combined video creations). Beautiful Havoc is available everywhere via 300 Ent.
Stay tuned for more music from the 23-year-old rapper very soon, including an upcoming collaboration with Kevin Abstract, as he continues his superstar trajectory and prepares for his follow-up to Beautiful Havoc.
Buy/Stream "RED": https://snot.ffm.to/red_
© 2021, Seth Barmash. All rights reserved.