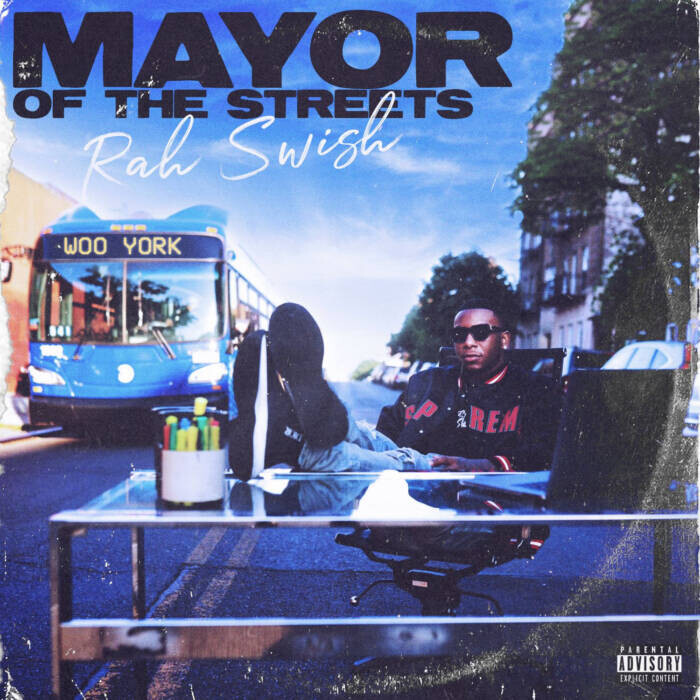 Hailing from Canarsie, Brooklyn, Rah Swish is one of the first to carve out the newfound drill scene in New York City. Rah Swish teamed up with childhood friends to make a rap collective named N.B.A., which stood for "Never Broke Again." After garnering millions of views on group songs, Rah began to release music as a solo act and built a highly engaged core following with early standout records like "Debo," "Back Up," "This & That," and "Double It" with Pop Smoke. Dropping his first body of work in 2019 entitled "Look What They Started," Rah quickly began to catapult to new heights with the breakout single "Treeshin'," which became the unapologetic theme song for thot activity all over his city and reached 2 million views on Youtube in a matter of months. In 2020, Rah has continued to put New York on notice with standout videos like "Too Much" featuring Bizzy Banks,"War Time" and "Who Run The City". Rah draws inspiration from 50 Cent, Lil Wayne, Jay-Z, and Drake.
The NYC mayor's race might be a tossup, but there's no question that Rah Swish would win the neighborhood vote. Celebrating his status as the city's next up, Rah shares MAYOR OF THE STREETS, his new project. Crackling and action-packed, Rah Swish's new project is packed with a fast-moving, aggressive, and danceable strain of the drill sound that's currently sweeping the Five Boroughs. Slickly sliding between wobbly 808s and skittering snares, Rah Swish proves that he's one of NYC's most charismatic emcees, projecting a supernatural aura of confidence with his nimble flows and energetic ad-libs. The Canarsie native peppers his rhymes with references to songs by previous NYC superstars like Jay-Z and 50 Cent, signaling his intentions to become the Big Apple's top dog.
The new project is home to recent singles like "WOO IT AGAIN," a Trackmasters-produced banger that evokes the sludgy proto-metal of Black Sabbath (1.7 million views), as well as WOO anthems like Woo Back," and "Warm Ups." The tape welcomes a feature from Smokepurpp on the project highlight "KNOTZ," and reunites Rah with fellow NYC heavy-hitter Ron Suno for "HASHTAG RS." Rah and Ron Suno connected last week for BK Juice, an action-packed short film based on the 1992 classic Juice, starring Omar Epps and 2Pac. Solidifying Rah's status as a rising star in Brooklyn and beyond, MAYOR OF THE STREETS is available everywhere via WOO Enterainment /EMPIRE.
Born and raised on the same Canarsie streets that birthed his close friend and WOO associate Pop Smoke, Rah Swish is a prominent pillar of the city's ascendant drill scene. Rah made a splash last year with his WOO Forever project, home to street hits like "Feel Like Pop," "Tongue Out (Treeshin' 2)," and "WOO Forever,"WOO Forever proved that Rah Swish is more than capable of keeping the WOO alive. The rapper turned heads later in the year with the Aaliyah-sampling "Watchu Like," a sultry collaboration with Bronx rapper Dream Doll, racking up over 2.7 million YouTube views.
Buy/Stream MAYOR OF THE STREETS: https://music.empi.re/mayorofthestreets
Watch BK Juice: https://youtu.be/lCJc0ObQ28s
MAYOR OF THE STREETS tracklist:
1. TRENDING TOPICS
2. SHOOTER OR NOT
3. KNOTZ (ft. Smokepurpp)
4. WOO BACK
5. EL OTRO
6. HASHTAG RS (ft. Ron Suno)
7. ILGAUSKAS
8. WOO IT AGAIN
9. WARM UPS (ft. Leeky G Bando)
10. WOO BACK (Remix) [ft. Fetty Luciano and Young Costamado]
© 2021, Seth "Digital Crates" Barmash. All rights reserved.