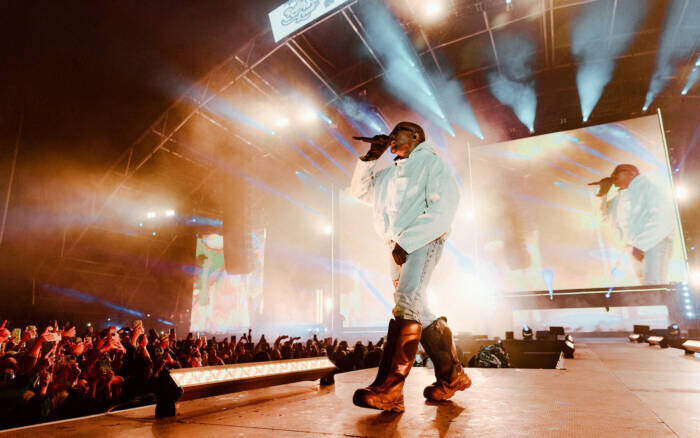 Photo Credit: Rolling Loud/@srodriguez92
Filled with picturesque sunsets, unforgettable fits, and most importantly, epic performances from some of rap's biggest starts, Rolling Loud California 2021 was an unqualified success. The third and final day of the festival was a celebration of the present and future of hip-hop, filtered through a distinct West Coast perspective. Over an eventful and safe weekend, Rolling Loud California proved just how energizing and joyful rap festivals should be.
The weekend ended with perhaps the most memorable Rolling Loud set of all time, as headliner Future ran through his hits (with help from DJ Esco) and brought out Ye, the former Kanye West, who made his first-ever Rolling Loud appearance an unforgettable one. Arriving onstage after spirited performances of hits like "March Madness" and "Mask Off," the Chicago legend made his presence felt, leading the crowd in a rendition of "Can't Tell Me Nothing." Ye's set was no mere cameo–he continued with "Hurricane" and "Praise God," two hits from his blockbuster album DONDA. While Future was content to watch Ye do his thing, he offered key contributions to the set, delivering his famous "if Metro don't trust you" ad-lib live during "Father Don't Stretch My Hands," and performing "F*ck Up Some Commas," during which Ye gave an impromptu freestyle. Ye's appearance during Future's set followed guest spots from Roddy Ricch and Hotboii.
Beyond the thrilling final set, Sunday brought eye-popping performances from innovators like Playboi Carti and Don Toliver, as well as street-level missives from the likes of Polo G and Morray. Notably, the day featured a host of Cali natives determined to do their home state proud. OhGeesy performed solo and Shoreline Mafia hits and encouraged the crowd to chant "Free Greedo," Drakeo The Ruler made his first home state festival performance since his release from prison one year ago, Blueface popped onstage with DDG to perform their hit "Moonwalking In Calabasas," and Offset Jim and ALLBLACK stood up for NorCal, inviting dozens of Oakland denizens (and San Francisco's Lil Bean) to share the stage with them.
Rolling Loud California 2021 capped off a monstrously successful year for the world's premier rap festival. They were the first major festival of any genre to return from the pandemic, hosting a Rolling Loud Miami that reverberated with the pent-up energy of a year spent inside. In October, the fest returned to rap's birthplace, bringing many of the best rappers on the East Coast and beyond for a three-day bash.
Rolling Loud, led by founders Matt Zingler & Tariq Cherif, have even bigger plans for 2022, including festivals on multiple continents, as they continue to lead the vanguard of live music experiences in hip-hop and beyond.
© 2021, Seth Barmash. All rights reserved.