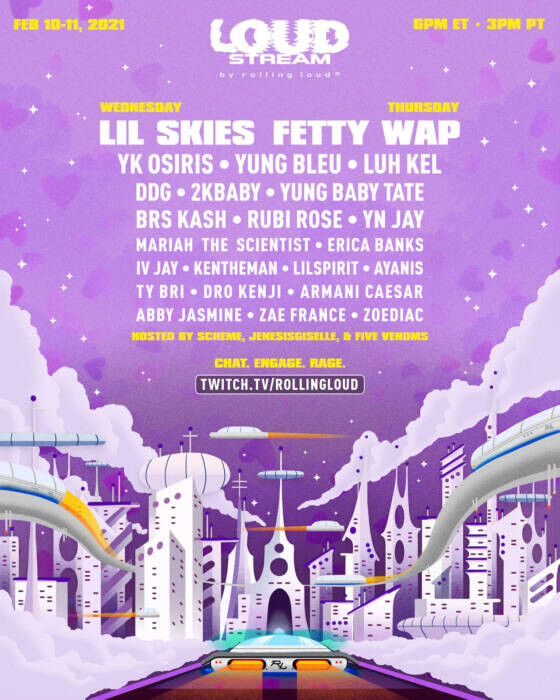 "Loud Stream" Night 1 Set Times (all times Eastern): 
11:15pm – Lil Skies
10:25pm – Yung Bleu
9:55pm – DDG
9:25pm – YN Jay
9:00pm – Erica Banks
8:30pm – Rubi Rose
8:05pm – KenTheMan
7:40pm – Lilspirit
7:15pm – Ayanis
6:50pm – Abby Jasmine
6:25pm – Armani Caesar
6:05pm – Zoediac
When Rolling Loud struck a deal with Twitch in 2020, the world's biggest rap festival became one of the world's leading live streamers, landing multiple "Loud Stream" events in Pollstar's Year-End Livestreams chart.
Kicking off tonight @ 6pm Eastern, exclusively on Rolling Loud's Twitch channel, third "Loud Stream" virtual festival promises to be the most romantic edition yet, arriving just in time for Valentine's Day. Headlined by Lil Skies and Fetty Wap, creator of the immortal V-Day anthem "Trap Queen," "Loud Stream" features several hours worth of live performances, without any pre-recorded sets or segments, along with artist interviews, live chat interaction, and commentary from the Rolling Loud team, including festival co-founders Tariq Cherif & Matt Zingler and "Loud Stream" hosts DJ Scheme, JenesisGiselle, and DJ Five Venoms.
On Night 1, Lil Skies caps off a busy night of performances, including sets from Drake collaborator Yung Bleu, YouTube personality-turned-hitmaker DDG, "Buss It" viral riser Erica Banks, and slickly comedic Flint native YN Jay. "Loud Stream" promises performance from a sizable contingent of woman rappers, with performances tonight from Banks, Rubi Rose, KenTheMan, Armani Caesar, and more.
Known for their exquisite taste in music and merch, Rolling Loud specializes in driving the culture forward. Coinciding with tonight's "Loud Stream which airs tonight exclusively on Twitch, Rolling Loud announces a new limited line of merch, including collabs with headliners Lil Skies & Fetty Wap. The Lil Skies collab includes a hoodie and two color options for t-shirts, each emblazoned with his signature butterfly, and the Fetty Wap drop includes a hoodie and a t-shirt featuring a portrait of the artist.
"Loud Stream" airs from 6pm ET/3pm ET until 12am ET/9pm PT on February 10th (tonight) and 11th (tomorrow) on Twitch.tv/RollingLoud
Subscribe to Rolling Loud on Twitch and visit RollingLoud.com/Twitch to read about subscriber benefits.
Check shoprollingloud.com to buy Rolling Loud-branded clothing.
website | facebook | twitter | instagram
Check out Rolling Loud on Twitch: Twitch.tv/RollingLoud
Check out RollingLoud.com for more information.
© 2021, Seth Barmash. All rights reserved.