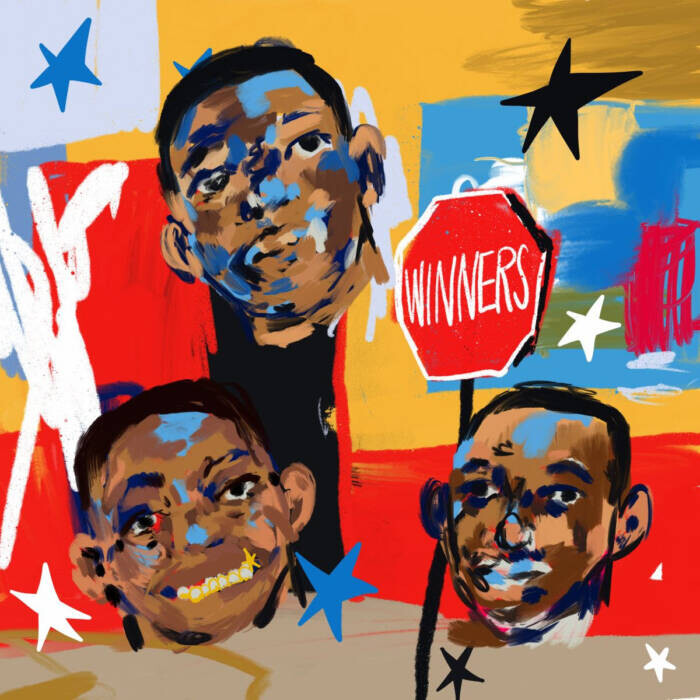 Single artwork by Nikko Washington
An essential producer behind present-day Chicago hip hop, Smoko Ono has the ability to intertwine his city's traditional sounds with those of the future. With the help of Yxng Bane, Chance The Rapper, and Joey Purp, Smoko Ono shares the new visual for "Winners." The song has a true dancehall feel to it, bolstered by smooth, Afrobeats-inspired drum patterns and bouncing synths providing the ideal canvas for the two Chitown heroes to deliver their verses. Crossing the Atlantic ocean to London with his Chitown crew, Smoko and the dudes post up with Yxng Bane on his home turf, moving around the city, and hanging out the side of their van. By incorporating elements like a fish-eye lens, the video creates the feeling of watching a vlog about Smoko and his friends while they do some light shopping and dig in on a prominent restaurant city. Making sure to stop by KISS FM UK to promote their new single, the four artists bring their short trip to a halt by finding some time to participate in London's nightlife.
The video for "Winners" arrives as the song continues to make waves in the streaming world. Currently, "Winners" sits at #1 on Apple Music's The New Chicago playlist, has received over 1.5 million streams on Spotify to date. "Winners" is Smoko Ono's second star-studded new single of the year, following "You Are" ft. Corinne Bailey Rae & UMI, which was released in May. A song about loving someone with the totality of your being, "You Are" is drenched in reverb, offering ringing guitars–played by multi-Platinum artist Daniel Caesar–and sumptuous bass perfectly suited for headphone listening.
Both featuring cover art from Nikko Washington, "Winners" and "You Are" are available to stream via Payday Records, and will both appear on Smoko's upcoming debut solo album, due to release in Q1 2022.
A frequent collaborator with the likes of Chance The Rapper and Vic Mensa, Smoko Ono has a sterling reputation in Chicago and beyond for his production prowess. He's produced tracks featuring some of music's biggest stars, including Kanye West, DaBaby, Megan Thee Stallion, Ty Dolla $ign, Cordae, and many more. Earlier this year, Smoko produced "All Pride Aside," a song by Shelley fka DRAM featuring Summer Walker. The prolific producer is hard at work on his star-studded upcoming album, which will be his first album since the critically acclaimed Very Slight, a collaborative project with Chicago rapper KAMI that generated over 12 million streams across platforms.
Stay tuned for much more from Smoko Ono in the rest of the year.
© 2021, Seth "Digital Crates" Barmash. All rights reserved.