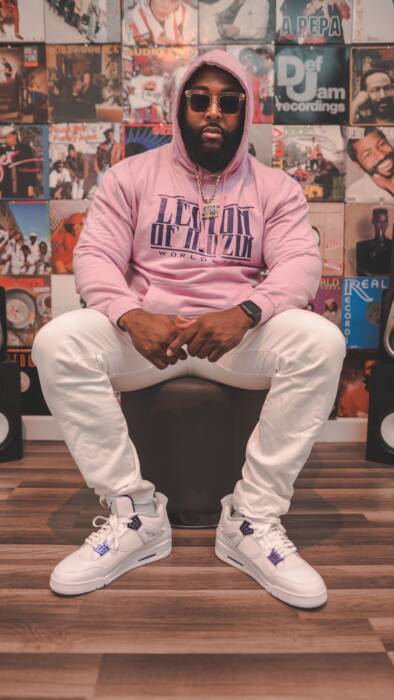 Established producer J Manifest has produced hits for some of the biggest names in Hip-Hop. Rick Ross, T-Pain, Wiz Khalifa, the list goes on and on. As he prepares for a huge 2021, we speak with the accomplished hitmaker on his past successes, present works, future plans and everything in between. Learn more about J Manifest below, in this exclusive interview.
In preparation for a session, what are some routines you practice to create that creative aura around you?
Usually before a recording session I like to take about 5-10 minutes to meditate to clear my mind of the previous session to give the next artist a clear mental start. When the artist arrive we normally have a 15 min conversation about some of the goals for the session that day and what type record we are looking to record.
To keep your competitive edge, do you still have rivals in production?
I don't have any rivals in production, however, I'm inspired by many producers and that's what ignites my competitiveness. I love to see my fellow producers get placements, plaques and Grammys that right there alone always puts fire up under me.
Your favorite equipment as a producer and why?
My favorite equipment to create music on would have to be the Akai Mpc. Although I could use any equipment or production software, the mpc allows me to have total control of the beat and there's nothing like the texture of hitting pads versus clicking a mouse, it makes me feel more accomplished when the beat is done
To you, give us an album that is underappreciated, production-wise?
I think one of the most underappreciated hip-hop albums was THE GAME "JESUS PIECE " ALBUM. That project was loaded with heavy hitters on the production side and featured artist as well, it definitely deserved to be one of the most talked-about albums in hip-hop.
Can't have victory without some early losses, tell us about the best lesson you've learned as a producer?
One of the best lessons I learned as a producer is to make sure your administration is on point. Make sure you have an entertainment lawyer look over contracts. Ive had records land major placements that I didn't get paid or production credit for because I was more focused on the placement and not the residuals. That came from being young and eager to get my name out there.
If there is one artist you would like to work on an entire full-length project with, who would it possibly be?
If there is an artist I could work on an entire project with my choice would be Jay-z. He's one of the best to do it and gets busy on any beat that he gets on. Oh, and if that happened my kid's kid would be set (laughs).
The plaque that brings you the most joy?
The first plaque I ever received came from a North Carolina based award ceremony CMA "Carolina music award". That was one of my first achievements solidifying my name in the state.
The best era, sonically, to you in Hip Hop and R&B?
The 90s had to be the best era in hip hop and r&b sonically. In the 90's you felt the music more than you heard the music.
Educate us on a few new artists we should be familiar with coming in 2021?
In 2021 it's definitely a lot of artists you want to be familiar with that comes out of my recording studio. It's too many to name but if you follow my social media platform @jmanifestnc @legionofmuzik you will see posts where I highlight those artists.
Do you believe you've made your best beat yet?
Yes, but oddly my favorite beats never get picked. All 1000+ of them dwell on my hard drive (laughs).
Any interest in transiting into executives or label CEO opportunities?
I've toyed with the thought of becoming a record CEO but I want to make sure I am the best CEO possible before I make that decision. Once you start signing artists they are trusting you with their career, and that could be a lot of pressure.
To you, describe the importance of faith?
Faith is everything, on this journey, you will fall out with family, friends, lose money, lose love life, lose your physical and mental health. Faith is a major key, this business can break you down on the way to success.
As a producer, if you could be apart of any Album's creative process, what album would it be?
If I could choose to be apart of any album's process it would have to be Snoop Dog Doggystyle.
© 2021, Oktane. All rights reserved.