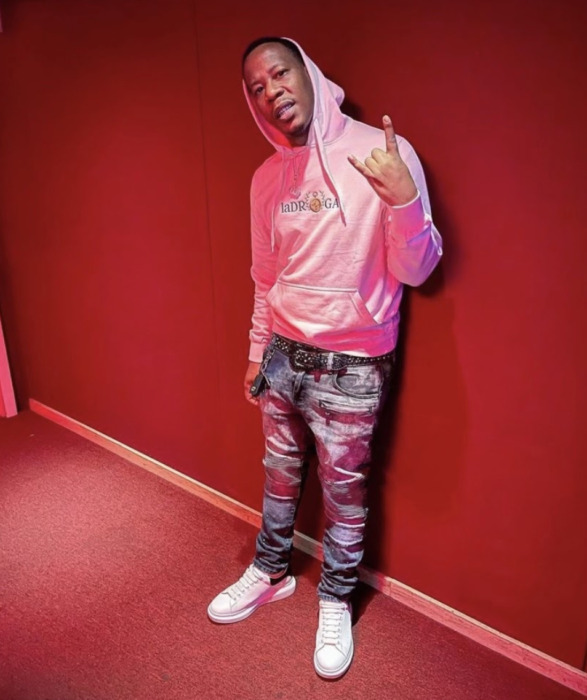 Louisiana producer Hardbody B-Eazy has been making waves in the music industry with his trap and Louisiana-style type beats and flair. His music and production are influenced by Baton Rouge melodies and hard bass and trap beats. From being influenced by artists like Drumma Boy, 50 Cent, Lil Wayne, Jeezy, and others such as Ludacris & Bone Thug-N-Harmony, Hardbody B-Eazy has created his own lane and is defined by his unique beats and notable placements with iconic artists.
"I always idolized Drumma Boy's beat making skills growing up, ever since I heard 'Umma Do Me' and Jeezy's 'Put On,'" Hardbody B-Eazy said. "When I heard those beats, I was drawn to it and they influenced my style and inspired me to make similar sounds that would inspire others."
Hardbody B-Eazy is an example of someone who prevailed, despite the odds. He was raised by his mother in a single parent household and also sold drugs before he really pursued music seriously.
"My mom was a single parent raising me when she was just seventeen and that came with certain sacrifices," Hardbody said. "That never bothered me though, only made me more determined to reach my goals."
He ultimately became dedicated to pursuing music to provide a better life for his son. He took a chance and made the decision to move to Miami, FL with rap superstar Fredo Bang. He decided that he wanted to invest in his relationship with Bang (and others in the industry) in order to help build his brand and really create music that was impactful and life-changing.
Now, Hardbody B-Eazy is at a great point in his career. In addition to having worked with and secured placements with YNW Melly, Lil Baby, Sada Baby and Moneybagg Yo … Hardbody B-Eazy also has a deep production and engineering catalogue with Fredo. Hardbody was largely responsible for the entire production and engineering of Fredo Bang's latest album In The Name Of Gee (Still Most Hated). On that project, Bang secured notable features from Moneybagg Yo, Rylo Rodriguez, and more, as well as Kevin Gates and Mulatto from the original release. One of the most exciting collaborations from the new slew of songs is on "Top (Remix)" as the ever-hyped Lil Durk comes through with a verse.
So it is no surprise Hardbody's latest production, "Top (Remix)" by Fredo Bang featuring Lil Durk, is a certified banger with 27 million streams (at the time of writing) on YouTube alone.
It's clear that Hardbody and Fredo have found a chemistry that has helped both of their careers and contributed to the two making names for themselves. Hardbody names his production work on In The Name Of Gee (Still Most Hated) as one of his proudest moments to-date.
"I feel like it showcases true growth from me, and that is what drives me, getting better," he notes. "I am serious about this and in my bag. I put my all into that tape, and I think it shows. Fredo really did his thing too. I think in ten years, people will still be talking about what we did with that project."
Further, Hardbody B-Eazy has not only had an impeccable year with Fredo Bang, but he has also seen much success collaborating with Moneybagg Yo on his track "Spin on Me," which went RIAA Gold and earned Hardbody his first Gold Plaque. The song has a fast pace beat, which slows down at some points then picks up in others, creating a cool fluctuation in sound, making the song even more memorable. Hardbody creates a hard-hitting yet laid-back track with ease, blending the differing tones into one memorable-track.
When asked about the message that he hopes people take away from his music, Hardbody said, "I try to be motivational, encouraging, and uplifting."
"Something that can help spark something in you to help you achieve what you want in life, no matter what that is," he continued. "You can always be better and do better for yourself and others. I'm big on pushing energy out there and showing people what they are capable of. If I can do it, so can you."
Make sure to keep an eye out for what Hardbody B-Eazy is up to next. He's set to release his mixtape, Key Playa, this year, as well as collaborations with people such as DJ Chose, CJ, Coi Leroy, and Moneybagg Yo on the way. Connect with him on IG @Hardbody_Beazy.
Stream some of Hardbody G-Eazy's finest work on Fredo Bang's project, In The Name of Gee (Still Most Hated), below. 
© 2021, Oktane. All rights reserved.