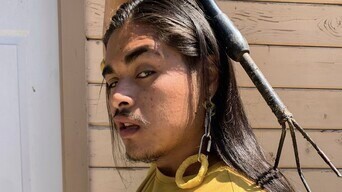 Esly Juarez's rap music hits listeners on several levels with his impactful words, expression of emotion and an 80s retro sound that often brings a nostalgic grin.
"I'm exploring that 80s and more melodic sound," Esly said. "I'm going to develop a sound that I can grow on as time goes on. I hope to continue it, flesh it out a bit and keep connecting my music together."
The 21-year-old dropped his first album earlier this year – "Sonar Assassin" – and this month will release his second. The 18-track album, dubbed "Dazed Awake," is a project fans can already taste with Esly's foreshadowing single that just came out, also called "Dazed Awake."
"It's about self-determination and the conscious outlook of what you want in life and what you want to strive for," Esly said. "It captures that vertigo feeling that you're current present and you want to inspire pleasure from rhythm. It's a vibe that's coming to you, and then all the sudden you're dropped right in the middle of it … I have songs that are relaxing – some days are gray and honestly it's a good vibe to have on when you need something deeper. It's something that makes you feel attached to an emotion and put in a better mindset."
This rap artist is a wordsmith, and says there's days when his journal is his best friend – coming up with raw emotion and visuals that fans will hear in his music and see in his performances.
"I always thought of music as the portal to go to sleep, but it can make your day change. Sometimes you need that boost – something that sleep, coffee or a shower isn't going to cut it – but then you put on that song and it gets you in a whole different zone … There's messages you need to reflect on, something nudging you, and everybody needs a rhythm to the journey."
Esly's voice is a variety of emotion and harmony – going from smooth in one verse and then rough and grunge in the next. His music career already has a certain spice to it that gives him an edge in the music industry. With a heritage from El Salvador, he's contributed to some bilingual music projects that have touched on hard topics like the Black Lives Matter Movement, and the current walk through the COVID-19 pandemic. Esly says music is too important to difficult moments in life, and he's not going to give up on it.
"You have to find what makes you happy and flow right," he said. "I want people to hear hope when they hear my sound. I'm not a diamond-in-the-dust type of person and I know I gotta work hard, stay long hours and I'm ready to do that. I'm already expanding on what I've learned, and I can't wait to get back on stage. I'm doing some face-painting so that when I sweat, you can see the paint smear down – it shows emotion, that rush in the moment and you feel the energy. That's what keeps that fire pumping. I push the pen to the pad to the next generation and I hope it brings hope and acceptance to those who don't have a route to go. Some might feel lost out there but you gotta let the bird out of the cage to fly."
© 2021, Oktane. All rights reserved.