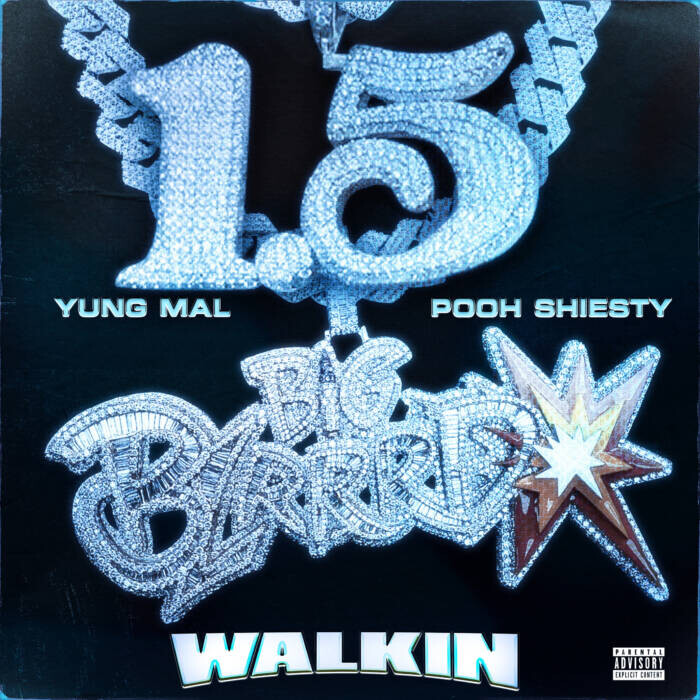 Exuding supreme confidence and insatiable hunger, Yung Mal is a master of nimble flows and fast=talking flexes. Sparring with a kindred spirit for a speaker-knocking trap anthem, Mal connects with Pooh Shiesty for "Walkin," his new single. Trading verses atop ominous piano-led production, the Zone 6 native and the "Back In Blood" hitmaker prove to be complementary collaborators, Mal's stutter-stepping triplets ("Neck full of water, b*tch I need a bucket") bouncing off Pooh's drawly tough-talk ("No ain't no gettin' away they said some sh*t made us forever beefin"). Directed by Jerry Production, the video (releasing today at 6pm ET) finds Mal and Pooh Shiesty counting cash at a safehouse in Zone 6, surrounded by real ones from Memphis and ATL, including Mal's close friend and frequent collaborator Lil Quill. "Walkin" is the latest single from 1.5 Way Or No Way, Mal's upcoming mixtape.
The first project to arrive as he starts a new phase of his career as the CEO of his own 1.5 Da Label, 1.5 Way Or No Way reflects Mal's evolution from up-and-coming to striver to a respected boss in the ATL scene. Mal's rhymes are more polished and precise, showing off a newfound facility with melody to complement the tricky rhythms and bar-line manipulations that characterize his flows. Emulating his mentor Gucci Mane, Mal rhymes with a new perspective, as he's determined to put his crew on his back and carry them out of Zone 6 into prominence. The upcoming project is home to "1.5 Way Or No Way," the tape's anthemic title track and mission statement, which came out last month. Featuring appearances from Pooh Shiesty, G Herbo, Lil Gotit, BIG30, Slimelife Shawty, Lil Quill, and Taker, 1.5 Way Or No Way arrives on May 21st via Alamo Records.
Yung Mal has kept busy in the early part of 2021 with a line of high-quality visuals, including "Belaire," "Look At Me Now" and "Stay Down." The upcoming 1.5 Way Or No Way is Mal's first mixtape since his successful two 2020 releases: 6 Rings, a full-length collab with rising producer Pyrex Whippa that received praise from publications like HYPEBEAST and XXL, and Iceberg Sosa, produced in full by Memphis producer Sosa808 (Key Glock, G Herbo), which featured highlight video singles like "Hitstick" and "Own Drip."
© 2021, Seth Barmash. All rights reserved.