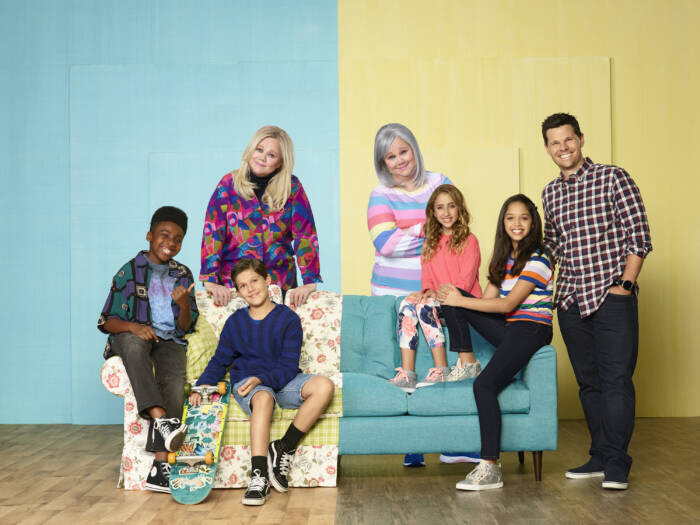 Disney Channel's popular daughter/father comedy"Sydney to the Max," starring actress and musician Ruth Righi as outgoing middle-schooler Sydney Reynolds, explores the beauty and complexities of Black hair in a new episode premiering on Disney Channel and DisneyNOW.
In the new episode, Sydney begins to question her straight hairstyle after her classmate Jada suggests that she try wearing her hair natural sometimes. This sends Sydney on a hair journey tied to her cultural identity and memories of her late mom, Alisha. Her dad Max tries to help, but Sydney is still at a loss and calls on her grandmother Maya. Back in the '90s, young Alisha is faced with a different hair dilemma when school picture day rolls around, and her mom has booked a salon appointment for her to get a relaxer. Alisha doesn't know what to do because she loves her naturally coiffed hair and feels like she loses a piece of herself every time she gets it straightened. 
Geared for Kids 6-11 and their families, "The Hair Switch Project" was written by Kourtney Richard and directed by Morenike Joela. The series stars Ruth Righi as outgoing middle-schooler Sydney, Ian Reed Kesler as Max, Caroline Rhea as Judy Reynolds (in both decades), Ava Kolker as Sydney's best friend Olive, Jackson Dollinger as young Max, and Christian J. Simon as young Max's best friend, Leo. Returning guest stars include Cassidey Fralin as young Alisha, Carlease Burke as Maya (in both decades), and Julia Garciaas Emmy. Additional guest stars include Princess K. Mapp as Sydney's classmate Jada, Shakira Ja'nai Paye as hairstylist Kellyn, and Nakia Burise as Nina in the '90s. Created by prolific Emmy® Award-nominated writer, showrunner and executive producer Mark Reisman ("Frasier," "The Exes," "Wings"), "Sydney to the Max" is a production of It's A Laugh Productions, Inc.
It carries a TV-G parental guideline.
© 2021, Oktane. All rights reserved.