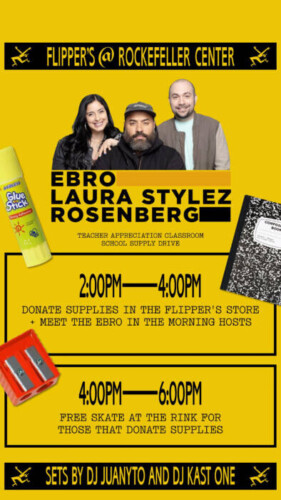 Hot 97's Ebro in the Morning presents the "Teacher Appreciation classroom school supply drive" roller skate party at Flipper's Roller Boogie Palace at the Rink at Rockefeller Center October 15th from 2pm-6pm featuring music by DJ Kast One and DJ Juanyto.
Ebro in the Morning proudly presents "Teacher Appreciation classroom school supply drive" to collect school supplies for teachers who need them for their classrooms. The morning show team will collect supplies from 2-4pm inside the Flipper's Store, and everyone who donates will be given a free ticket to enter the skate party from 4-6pm. Free slices of pizza will be provided to the first 100 people. Flipper's Roller Boogie Palace will make a donation of school supplies as well.
"We understand the needs of teachers and can't wait to raise as many donations as possible with all the fans who listen to our show faithfully. Ebro In The Morning Secure the Future initiative is back and we at Ebro in the morning are committed to helping teachers get the school supplies they need to have a productive learning environment for all students." Laura Stylez On-Air Personality Ebro In The Morning. 
ABOUT HOT 97: (WQHT 97.1FM) HOT 97 is the world's first all hip hop station and has held the dominant position in New York for over twenty years. HOT 97 is best known for its celebrity on-air talent, such as Ebro in the Morning with Laura Stylez & Rosenberg and Funk Flex, and is the world's premier source for Hip-Hop music culture. HOT 97 online and the new HOT 97 app are the destinations for original web series, celebrity content, concerts, and music videos. For more information, please visit www.HOT97.com, and follow us
on facebook.com/HOT97official, twitter.com/HOT97, instagram.com/HOT97  and youtube.com/HOT97.
ABOUT MEDIACO: MediaCo Holding Inc. ("MediaCo") is a publicly listed media company (NASD: MDIA) that super serves communities throughout the country. MediaCo owns and operates two of the top urban radio stations in New York City, HOT 97 (WQHT-FM) and WBLS-FM, and Fairway Outdoor, an out-of-home advertising business with roughly 3,500 faces throughout the Southeastern U.S. The company primarily generates revenue from advertising sales and events.
ABOUT FLIPPER'S ROLLER BOOGIE PALACE
Flipper's Roller Boogie Palace is a platform for roller skaters and fun-seekers. Founded in 1979 by Ian 'Flipper' Ross, Flipper's began as a family owned and operated roller rink in Los Angeles. The legendary roller rink returned in 2022 as a new venture from Liberty Ross and Kevin Wall, in partnership with Usher, with a roller skating experience at The Rink at Rockefeller Center in New York City, open through October 15, 2022, and Flipper's Shop at the Channel Gardens at Rockefeller Center, featuring Flipper's-brand merch and skate accessories, open year-round. This Fall, Flipper's will open a flagship location in London. Celebrating roller skating, positive mental health and emotional well-being, Flipper's is a place to let go, be present and connect with yourself and those around you. flippers.world @flippers.world
FLIPPER'S ROLLER BOOGIE PALACE 
NEW YORK CITY VISITOR INFORMATION
Roller Skating:
Tickets for Flipper's Roller Boogie Palace at The Rink at Rockefeller Center start at $20 USD, and are available for booking at flippers.world.
Address: 600 5th Avenue, Rockefeller Center, New York, NY 10020
Hours: Monday, Tuesday, Wednesday — 10am to 10pm
Thursday, Friday — 10am to 12am
Saturday — 8am to 12am 
Sunday — 8am to 10pm
Flipper's Roller Boogie Palace will close October 15th for The Rink at Rockefeller Center to transition to ice skating, and return April 2023.
Shop:
Address: 610 5th Avenue, New York, NY 10020
Hours: 10am to 7pm daily
© 2022, Seth "Digital Crates" Barmash. All rights reserved.